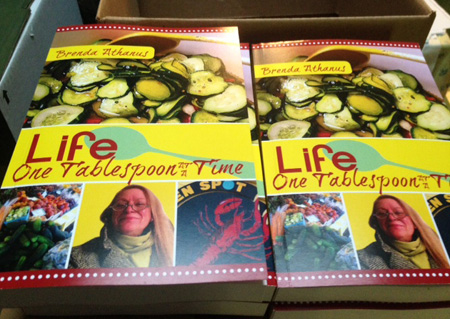 I always think one of the nicest things to bring home from vacation is a souvenir cookbook from a spot you love. Miz Wilkes' Boarding House in Savannah comes to mind and on the other end of the spectrum, Nobu or Suzanne Goin's pick one (AOC, The Tavern, The Larder...).
But I was particularly charmed by Life One Tablespoon at a Time by Brenda Athanus, owner with her sister Tanya of the secret gourmet shop in Lake Country in Oakland, Maine.
It's part memoir, part recipe, part an homage to other great food writers like MFK Fisher, Amanda Hessler and Calvin Trillen.
Make your own truffles. Celebrate Fiddle Head Ferns, assuming you can find them. The most perfect lobster roll ever! New Year's Chinese noodles (not sure if that's for Chinese New Years' or the regular one) but delicious nonetheless.
It also includes a wonderful tribute to her cooking teacher Madeline Kalman and is sprinkled with stories about their travels, their local "walnut man" (wish I had one of those), their friends, and Brenda's total love and understanding of excellent food, fresh ingredients, entertaining, laughter, and love.
It's only available in store – and the store's only open in the summer. BUT it's an excellent holiday gift and I bet if you call her, she'll autograph a copy for you or a friend and send it on to them. And while you're at it, you might ask her, if she has any on hand, if she'd send some jam and her amazing pickle relish, as well.
Proud to say, many of these pieces and recipes originally appeared at One for the Table!
The Green Spot
This email address is being protected from spambots. You need JavaScript enabled to view it.
207.441.9327