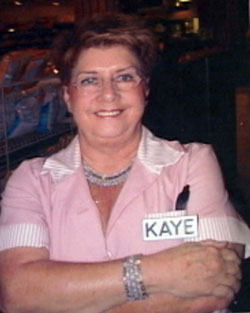 I once went to the most spectacular Hollywood funeral ever. And the love that poured out was well deserved. We knew her by one name, kind of like Cher or Madonna. Kaye. Do you all know whom I'm talking about? You do if you were lucky enough to grow up in Beverly Hills at that time. It's Kaye Coleman, beloved Nate 'n Al's waitress of 38 years and star of our collective childhoods.
Although Kaye had a daughter, Sheri, and a son, Michael, she was the unofficial surrogate mother to some of the biggest mothers in Hollywood. And her "sons" looked after her well. I'd run into Kaye at the priciest restaurants, sometimes on Sunday at Matteo's, in the booth near Sinatra, dining with her posse of waitress friends, the tab picked up by Lew Wasserman or Bernie Brillstein. Those two moguls would also send her on European vacations and Mediterranean cruises. At times, Kaye lived a fancier life than many of her Beverly Hills customers.
At the deli, she was on a first name basis with everyone, including the big agents and the bigger stars, but there was only one "Mr. Wasserman." She'd be kibitzing with you, then spot Mr. Wasserman walk in and say, "Gotta go, there's my twenty dollar tip!" Kaye would hit and run with her insults and barbs. She'd give you a tidbit, not finish the story, then walk away quickly leaving you wondering and wanting more. Later on, she'd circle back, finally giving you the punch line. And then she was off again to pick up the next order of Matzoh Brei.
Larry King was the emcee of Kaye's funeral in 2004, the only funeral I can think of that had one. His two Nate 'n Al's buddies, the ones he eats with everyday, Sid and Bob, gave their own hilarious eulogies. So funny, that I overheard Suzanne Pleshette - with that happy newlywed look on her face after her surprise marriage to Tom Poston - leaving the funeral saying, "Who knew? Guess we have to get those two to speak at my funeral." Sadly, that day would come too soon (not fair).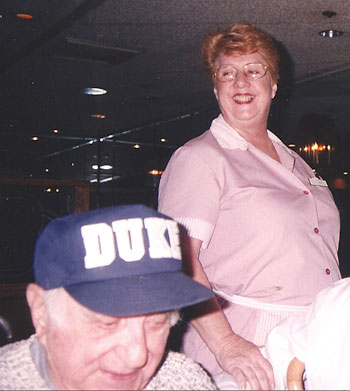 Kaye and my dad had their morning routine. She would greet him by pouring his coffee and sassing him before he could her. They had a rhythm like an old married couple. She would go in back and personally scoop out his onion bagel, treating Maurice Duke as though he were Lew Wasserman. Then, a hand on her hip, she'd give his entourage some shit about never picking up their own bills or leaving a big enough tip. If my dad were ever sick at home (rare), Kaye might bring him chicken in a pot. And when he died, she and the other waitresses stayed behind at my father's apartment building, setting up the free Nate n Al's spread, donated because of all his years of patronage.
As a result, Kaye and her friends missed the outpouring of love from wonderful comics like Red Buttons telling hilarious Maurice Duke stories. That's how selfless Kaye was. (Note: Duke would not have been pleased to know that Morey Amsterdam's competing funeral that morning would drain off some of the less loyal comic talent, like Milton Berle.)
At her own send-off, Kaye's girlfriends, children, friends, celeb friends, everyone would witness the love in eulogy after eulogy. Then on to the Friars Club went 500 of Kaye's biggest fans. And they ate. And ate. It could have been one of the highest budgeted funerals of all time. Shecky Greene did a private stand-up for my daughter and me – a 10-minute rap about my dad, off the top of his head, everything rhyming perfectly, a genius routine. Augie and I applauded him with a sobbing ovation. Then everyone went off to a new life, one without our much-loved Kaye.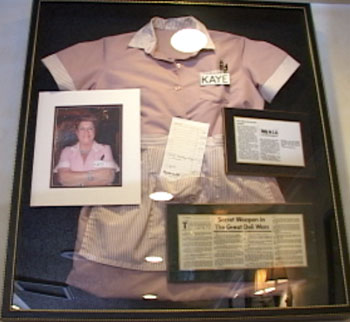 Like the rock star she was, her framed uniform hung on the wall in the deli for years. For a few years after my father died, I would walk into Nate 'n Al's, look towards his old booth and cry. Kaye would actually yell at me in her no bullshit way, "Get over it, Fredde!" and tell me to come back when I could handle it. I tried but I really just stopped eating there.
I do occasionally stop in now to see her friend and mine, Gloria, another waitress. Whenever my dad or I threw a party, he would invite Kaye and all the waitresses. Now, when I look back at the old family videos, I see Kaye at every family celebration.
In honor of Mother's Day, I would like to thank Kaye for her nurturing of all of us -- and that includes her volunteer work for the terminally ill at Cedars.
One of the things Kaye was most famous for was designing the bagel on a string. All of our children delighted in teething on those bagels. In tribute, everyone wore them to her service at Westwood Village Cemetery. Beverly Hills is not the same, Nate 'n Al's is not the same, and the world is just not the same without Kaye Coleman.
Fredrica Duke shares how she discovered her love of food while growing up in Los Angeles on her blog Channeling the Food Critic in Me.