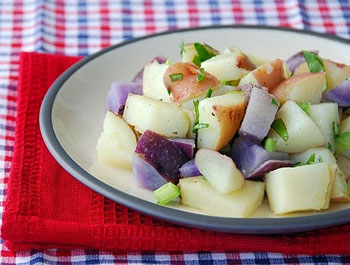 Generally I'm not one for "themed" food. But a girl's gotta have some fun. So for the 4th of July, I'd like to share a patriotic potato salad made with three kinds of spuds: old fashioned white russet, delicate red-skinned taters, and sassy All-Blue potatoes (which are sometimes labeled purple Peruvian).
This potato salad is just kitschy enough without being tacky. Though I recommend using red-white-and-blue checkered cloths, I don't think sticking sparklers or miniature American flags in the potatoes is necessary.

The potatoes you see here are called All-Blues. They are slightly starchier but the same color as purple Peruvians, which are technically fingerling potatoes -- smaller, thinner potatoes. Apparently, both get their brilliant color from iron. The color will fade when cooked, but try this trick to minimize the fading: add a couple of splashes of white vinegar to the cooking water.

Well that's it for today. Now I've gotta get crackin' on my American flag-shaped hamburgers....
Patriotic Potato Salad
Serves 4-6

2 pounds total of russet, purple, and red-skinned potatoes
2 stalks celery, diced (about 1/2 cup)
2 tablespoons olive oil
2 tablespoons white balsamic vinegar**
1 tablespoon water
2 tablespoons each fresh basil and parsley, thinly sliced
6-7 cranks of freshly ground black pepper
a generous sprinkling of salt, to taste

Scrub the potatoes well, rinse thoroughly, and pat dry. Cut into 1-inch pieces. Add to a medium size pan of water (with a couple of splashes of white vinegar, if desired). Bring to a boil; reduce to a simmer, and cook until potatoes are tender yet still firm to the touch, about 8-12 minutes.

Meanwhile, whisk olive oil, white balsamic vinegar, water, herbs, salt and pepper in a small bowl, and set aside.

Drain potatoes, and place in a large bowl. Add diced celery, and pour vinaigrette over the potatoes. Gently stir to avoid breaking the potatoes. Serve at room temperature or chilled. (Potato salad tastes better after it sits at least a few hours.)

**White balsamic vinegar is available at Trader Joe's as well as most major supermarkets. It's similar in flavor to regular brown balsamic vinegar but doesn't stain the potatoes.
Susan Russo is a free lance food writer in San Diego, California. She publishes stories, recipes, and photos on her cooking blog, <Food Blogga and is a regular contributor to NPR's <Kitchen Window. She is also the author of Recipes Every Man Should Know
and The Encyclopedia of Sandwiches
.