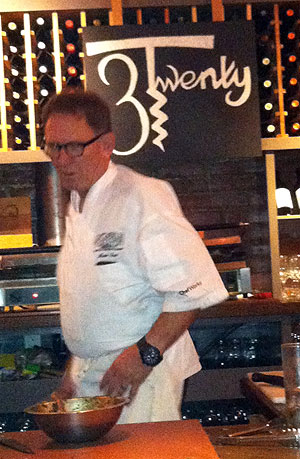 Childhood fantasy: Coming home from school on a cold day and having a grilled American cheese sandwich with a bit of tomato soup. Adulthood fantasy: A prosciutto, manchego and mint pesto pear grilled cheese sandwich paired with a glass of Hirsh Pinot Noir. Who says that childhood fantasies are better?
Last Thursday, Peggy and I went to 3 Twenty Wine Lounge, our favorite wine bar, for the return of Campanile's grilled cheese night. Campanile was one of the great Los Angeles restaurants that for many years set the mark for food and style for dining in L.A. It original owners, Mark Peel and Nancy Silverton, were the foodie "it" couple. Reservations were impossible, food was incredible and the venue, once belonging to Charlie Chaplin, was gorgeous. Sadly, like many great restaurants, it ran its time and recently closed.
Of the many innovations that came from Chefs Peel and Silverton was the elevation of the grilled cheese sandwich to an art form. Many chefs today are making amazing grilled cheese – Celebrity Chef Eric Greenspan having twice won trophies at the international grilled cheese competition – but it was Peel and Silverton who started it all. They introduced a grilled cheese night at Campanile that was packed for years. It was the original. It still is the standard.
With the closing of Campanile, we thought grilled cheese night was gone forever, so we were thrilled when we learned that Edgar Poureshagh of 3 Twenty Wine Lounge had invited Mark Peel for four Thursdays for the return of grilled cheese night. Sadly we missed the first two, but we made it last night and booked our reservation for next week (the final week) before we even finished with dinner. For us, it turns out that Campanile's grilled cheese and 3Twenty Wine Lounge is a perfect pairing.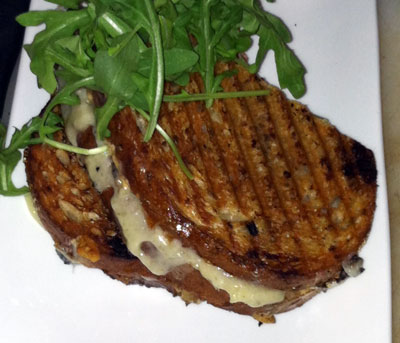 3Twenty South is a small wine bar/restaurant with about 40 wines by the glass and about as many seats. Because of its size, Mark Peel was front and center making his grilled cheese. I had been to Campanile many times over the years and had met Mark when he sometimes made the rounds, but to have him creating his amazing sandwiches in the middle of the room was a treat. He was so enthusiastic about what he was making, talking to all of the diners, explaining his dishes and what made them great.
Peggy and I got a close up lesson on how to toss pears in mint pesto. The secret (in addition to an amazing pesto to start) is adding just three drops of lemon juice. "Most people put in too much and instead of getting a hint of acid for balance, you end up drinking the juice" he instructed. "If a little bit of something tastes good, then more is terrible." Mark Peel's cooking words to live by.
In addition to having Mark front and center, making and explaining the sandwiches, Edgar was there to pair them with the prefect wines. Edgar is a sommelier with a truly deep knowledge of wine and a fantastic palate. His wines are from all over the world. We gladly put ourselves in his very capable hands.
After a butter lettuce, apple, hazelnut and blue cheese salad that we had with a German dry Riesling, it was time for the main event. Peggy ordered the "classic" grilled cheese sandwich with marinated onions and whole grain mustard. I ordered the prosciutto, pear and manchego sandwich with the mint pesto. Sadly we were too full to have the Rubin, made with house cured pastrami. Next time.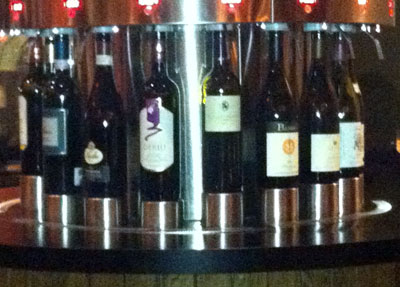 Once the sandwiches arrived, Edgar then went to work. He was pretty confident about my paring and picked a dark rich Pinot Noir that worked both with the salty fat of the prosciutto and the sweetness of the pears. He had a little more work to do to pair the "classic" because of the strength of the mustard, but this only worked to our benefit as he brought out a Marche Rosso from Italy, then a Rioja from Spain before settling on a Rose from Germany. We were happy with each, but in the end it was the Rose that really cleansed the palate for the next dreamy, creamy, crunchy bite of classic grilled cheese.
The perfect food and wine paring makes each taste better. The perfect restaurant paring elevates both as well. Campanile's grilled cheese with 3 Twenty's wine did just that.
3Twenty South Wine Lounge: 320 South La Brea Avenue, Los Angeles, CA 90036 / (323) 932-9500
Bob Wyman practices entertainment law as a partner in the firm of Wyman & Isaacs, LLP, but spends much of his time eating and drinking in L.A.