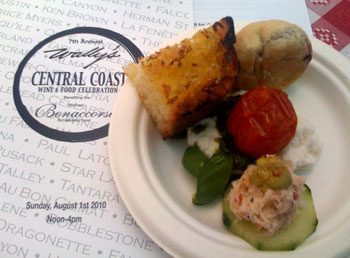 As a wine lover in Los Angeles, there is a wide range of dinners, tastings and classes one can attend every month and unless you have unlimited funds, you have to become fairly selective in where you spend your wine tasting budget. I've heard many great things about Wally's Annual Central Coast Wine & Food Celebration, but was never able to attend until this year. This past Sunday, I decided to take a chance. For me, the biggest factor in whether I'm going to drag myself (and my designated driver, a.k.a my husband) out to an event is what we call "bang for the buck." I don't normally go to festival-type functions because I want to talk to the winemakers about their offerings, which rarely happens when you're trapped in a tiny room with other, equally excited, wine lovers who you have to elbow out of the way just to get a 1-ounce pour. Plus, it's hard to feel like you're getting your monies worth when you only remember tasting 20 wines...and that's if you're taking notes.
Wally's began this event seven years ago as an annual fundraiser for the Michael Bonaccorsi Scholarship Fund, drawing many of the most renowned wineries from both the Santa Barbara and Paso Robles regions as well as the top restaurants from both Los Angeles and the central coast. The food at these things is usually a tired cheese plate and some crackers, but this event is clearly important to both the food and wine communities to get places like Mozza, Spago, Cut, Jar, Lucques, A.O.C., Comme Ca and The Hungry Cat to show up. Since it's a celebration of the Central Coast, it was also great to be able to taste food from some of our favorite restaurants we visit while out and about wine-tasting like Artisan (Paso Robles), Full of Life Flatbread (Los Alamos), Bouchon/Seagrass (Santa Barbara), The Hitching Post (Buellton) and Brothers' Restaurant at Mattei's Tavern (Los Olivos).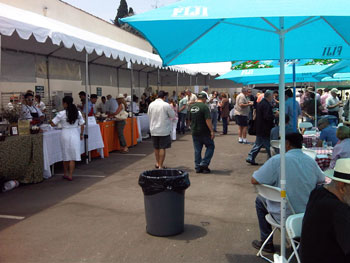 I found it more than a bit ironic that I've eaten at all of the out of town places and only one of the local ones. (Everyone's had pizza from Mozza). We only go out to eat when on vacation. Not only was the food top notch, but the way the event was set-up – the chefs in one parking lot with plenty of tables to sit at with the wineries in a separate lot – gave everyone space to move around without bumping into each other or having to wait in long lines. Something I really hate. Plus, the food was never-ending. They didn't just make 200 mini-burgers or tacos and shut the grills down. They cooked their hearts out for 4 hours and encouraged seconds. (Well, they didn't stop you from taking them.) Full of Life actually dragged their pizza oven down to the event. Since the party/tasting started at noon, we spent the first half hour, trying just about every delicious morsel available.
My biggest surprises of the day – the ones I just had to have again...and again – were Bouchon's Crab Salad Cucumber Canape, Full of Life's Broccoli Flatbread pizza, Mattei's Tavern's Mahi Mahi Taco, Mozza's Burrata Caprese and Artisan's Hearst Ranch Beef slider. The Man really loved the Spago Steak with Grean Bean Salad and Olio e Limone's Olive and Eggplant Salad, which was no surprise to me. He's a steak and olive whore. I am not a big fish eater so the crab and taco seemed extra good because I really didn't expect to like them. I've found in the last two years of more adventurous eating, things you normally don't like can be transformed into something magically delicious in the hands of master chefs. Events like this give you the chance to expand your palate in many ways, so I took full advantage of the offerings. Plus, wine tasting on an empty stomach is a recipe for disaster.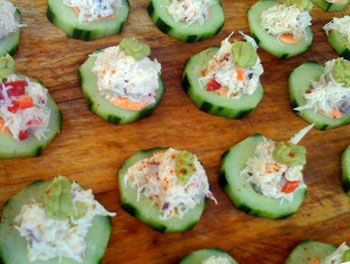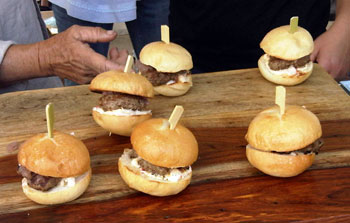 Once we had a good amount of ballast going, we wandered back over to the wine side and began tasting. Though is wasn't a super hot day – we are having an oddly mild summer in Los Angeles – I was so thrilled that they tented the whole area. It's just much easier to sip red wine in the shade. It was a stitch dark, but that gave the event a more intimate feel, like you were at a secret party. Since we tour through the Central Coast a lot, we got to see a few of our old friends and taste their new offerings, which is nice. Of course, when you go to an event like this, you should have a plan. Do some research. Get on the internet and find the wineries who are going to be there that focus on your favorite grape varieties, make the most expensive wines or go for the grapes you've never had before. Just have a strategy.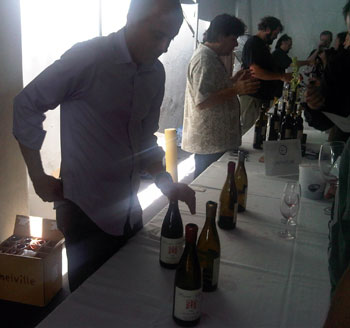 Mine, at most of these events, is to taste wines from the smaller producers who aren't open to the public. I hate making appointments, since you just never now when you're going to hit it off with a winemaker and I hate to have to run off when I'm having a great chat. Plus, there's the added internal pressure of feeling guilty if you had them open their door to you and you don't like/buy anything. Here, I was able to see what, if anything I was missing. Some favorite finds of the day were Inception Wines (making affordable, well-crafted Pinots), Jorian Hill (lovely Rhones), Clos Selene (an incredible Roussanne), Chanin (Au Bon Climot's winemaker's personal label), Dragonette Cellars (vibrant and intense) and Brewer-Clifton (not a newbie, but wines I was never able to try until now and so glad I got the opportunity). Other wineries I was happy to have in my glass again were Melville, L'Aventure, Palmina, McPrice-Myers, Stolpman and Tercero.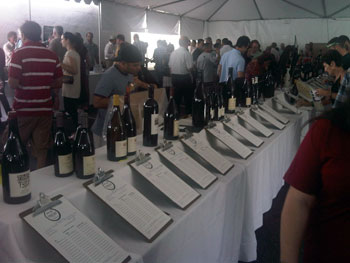 After that it got a bit hazy and we decided to leave before the crowd began to turn. If you've attended enough of this events, you know exactly what I mean. On the way out I just had to stop into the store, which I had never been to before and Wally's new cheese shop, which is my idea of heaven. Especially when browsing comes with a grilled cheese sandwich. Even though I was full, I couldn't refuse this last yummy morsel. The perfect end to a great afternoon.
While this was not a cheap event – tickets are $95 a person – it was first class all the way with the proceeds from the tix and the extensive and impressive silent auction going to charity. Nice glassware, attentive and available volunteers and a neighborhood you can park in for free were additional nice touches to the experience. Now if only they could/would alphabetize the winery tables....
Lisa Dinsmore is a writer, web programmer, movie and wine lover. She currently runs two review websites to share her passions: www.crazy4cinema.com and www.dailywinedispatch.com. She is also the Managing Editor of One for the Table.