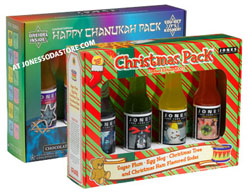 What could be better than to customize the label on your soda? Well, yeah, world peace, but in the meantime, Jones Soda, which my daughter Lena turned me on to, has done that. Right from the beginning. In fact, they've gotten awards for their unique packaging and constantly changing labels, which are generated and submitted by their customers. Their attitude is clearly expressed by other product lines such as their energy drink: WhoopAss. This season you can give the gift of Holiday Collectors Packs. Be "thankful" Thanksgiving is over. They had Turkey and Gravy Flavor. Look out Bernie Botts.
Honestly you still run some risks with these holiday packs, but who doesn't like a dare? The Christmas Pack features: Christmas Ham, Egg Nog, Sugar Plum and, (yikes) Christmas Tree. The Hanukkah Pack has: Applesauce, Chocolate Coin, Jelly Donut and, (oy), Latke. You even get a toy in both. Lena and her boyfriend decided to do a taste test. I overheard comments like: "Ewww, Christmas Tree tastes like dirt." "How do you know what dirt tastes like?" "I ate it when I was three." "You can remember that far back?" I would stick with the favorites. Both my girls like Blue Bubble Gum and Green Apple.


Laraine Newman is a founding member of The Groundlings Theatre Company and an original cast member of Saturday Night Live. She lives in her hometown of Los Angeles with her husband and two daughters.