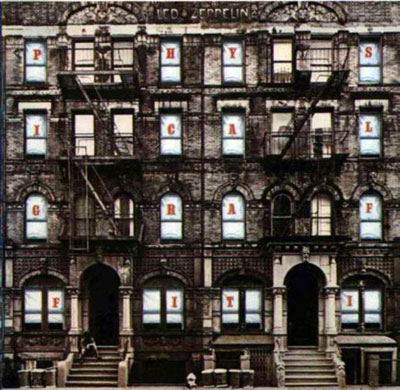 Many of us have heard that old adage from the Corinthians: "When I was a child I spoke as a child, thought as a child, and reasoned as a child; but when I became a man I put away childish things." Well, when I was a child of sixteen I liked to drink beer, smoke pot and listen to Led Zeppelin at top volume.
Admit it – you did too.
Eventually, much to my dismay, I was required to become an adult and to reason as one. I am not saying that I have achieved any great levels of thought; but I did stop listening to Seventies arena rock. I thought I was supposed to. Just like I thought I was supposed to acquire some decent furniture, invest in an IRA, and make sure my hemline never again drifted above my thighs....that kind of crap.
I even brought myself to marry someone who liked "Smooth Jazz." I found myself spending many evenings at the second-rate jazz clubs on Bleecker Street, trying to look at least mildly entertained as I listened to some tepid trio, while drinking even more tepid wine. There were things about adulthood I found incredibly disappointing.
I know I am not the only person who feels like this. New York City is full of adults who still crave the thrill and energy of the head-banger music of their childhoods, but no longer want to have to resort to banging their heads. In other words: We no longer want to fight for our right to party.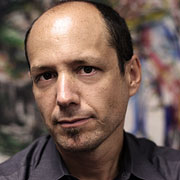 Enter Michael Dorf. Dorf is the founder and owner of New York City's immensely popular City Winery—the world's first (and only) winery-and-night club combo. Michael has a long history with night clubs (he was the founder of Knitting Factory, which is still considered to be one of New York City's preeminent live-music venues); and he also has a long history with wine. He had an opportunity to make his first barrel of wine in Napa Valley in 2004 and had what he calls an enlightening experience. He started to visit other wineries in Napa Valley (including the famous Crush Pad in San Francisco) and started to explore other winemaking opportunities on the East Coast. He found a few winemaking facilities in such unexpected places as Staten Island and New Jersey, "but these places were producing bulk wine," he says. "There was no focus on specific terroirs." Michael, however, had the vision of opening up a winery that produced higher quality wines, using grapes from the best and most coveted vineyards in the world. He realized that vision in 2009, when City Winery first opened its doors.
Another inspiration Michael Dorf had – back when he was visiting various wineries – was that these wineries, with their airy tasting rooms and cavernous cellars, would be excellent places to put on concerts. "That's just how I think," he explained. "I've been promoting music since the eighties. To bring masses of people together to enjoy wine and listen to music – that's not anything genius. It's a bit of an obvious connection, really – wine and music go together. In fact," he continues, "I see a close association between wine makers and music makers." He listed a number of famous rock musicians who have gone on to become respected winemakers, including Fred Smith of Television and Boz Scaggs. "There's a similar psychology to the two, a similar DNA. I just had the chutzpah to take this obvious connection and do something more with it."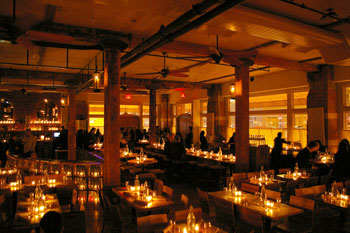 So, City Winery became not only the city's largest wine bar; it's also the coolest. The way-coolest. Just like Knitting Factory before it, City Winery is now considered one of the preeminent music venues in New York City. "I like to think of it as a venue for serious music fans who have outgrown their dive-bar phases and want to enjoy good food, good wine, and good music in a more elegant setting," Dorf says.
The unique concept of pairing particular wines with particular songs grew organically from there. The first band-specific pairing event featured the music of Led Zeppelin. "It took time to go through the catalogue material and attempt to make some non-random association between wines and the songs," Dorf says. "The process was very nuanced, and it took a tremendous amount of creative pairing. We had to find, in each of the wines, a flavor or characteristic that could be tied to the music." Dorf and his team of wine directors, sommeliers, chefs and others shut themselves into an office, and then basically had the world's coolest brainstorm session.
"I'd like to get a job like that," I told Dorf. "Especially if I get to drink wine on the clock, and eat French cheese." Then I added, "I'm part French, you know" so that he wouldn't think I was some kind of lush. Just a closet Zep-head, disguised as a middle-aged white woman on the Upper East Side.
I could imagine the scenario. Dorf and his team would blast Led Zeppelin music for hours on end, and engage in detailed discussions about, say, the "searing, urgent turbulence" of "The Immigrant Song" as compared to the jolting Henriot Brut Blanc de Blancs NV. Or they'd analyze the epic structure of Led Zeppelin's famous song "Kashmir," which, according to the CW team, is "almost orchestral in its complexity." For this epic song, Dorf and his team chose an epic wine – Fontanafredda Barolo Serralunga 2001 – "because the Barolo, like 'Kashmir,' unfolds over time to reveal new nuances." Rock on, Barolo!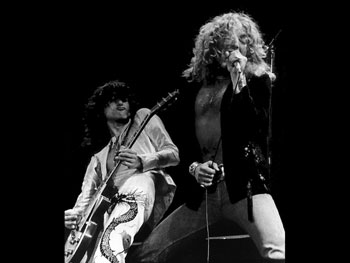 Eventually the CW team came up with some righteous promotional copy for the Led Zeppelin event, such as "[Lead singer Robert] Plant's primal screams [in The Immigrant Song"] echo the [Blanc de Blanc's] palate, which has a jolting acidity and minerality."
Or, for the song "Whole Lotta Love," they wrote: "This song starts out crunching and hard but takes on other dimensions with time." The CW team paired it with a Château de Sales Pomerol 2004 – an "ethereal and hedonistic" wine.
Serious journalist at I am, I tried this one at home, along with a guitarist friend of mine who plays with me in a Who cover band. (I was not able to attend the Zep event in person, due to a schedule conflict). And you know what? The pairings were absolutely brilliant. By the second bottle, we were singing: "Way down inside, you need....Pomerooooooooooool!" a la Robert Plant while Jimmy Page chopped through his chords in the background.
I thought back to high school, sitting with my girlfriends in someone's father's car, staring up at the sky through the windshield as we drank very warm, very tepid, very horrible-tasting Pabst Blue Ribbon in the Raytheon parking lot. It was still fun, don't get me wrong. Especially when Physical Graffiti was blasting on the cassette deck. The music transported us, up and away from our mundane existences as suburban girls into the lands of the Misty Mountain and Kashmir. Wine, too, transports us—to the rolling hills of Provence, or the majesty of Napa Valley.
So how fucking brilliant to finally start matching wines to rock and roll! In a beautiful, hipster setting?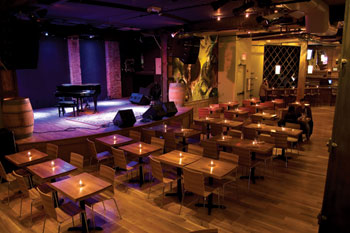 And, as wine serves music, so does music serve wine. Dorf says he knows a number of top winemakers who play music in their cellars to agitate the wines. "Sound is wave motion and vibration," Dorf said. "Therefore a certain amount of vibration gets into the barrel." Like I said, I could drink a case of Jimmy Page.
"The Great Led Zeppelin Wine Pairing" was an enormous success. More than 200 people showed up for the event, all of them Zep aficionados, all of them wine aficionados. Dorf said that the large majority of his guests that night were women, which surprised him. "I mean, this was a classic music show with a Led Zep cover band," Dorf said. "So naturally I expected more men than women. There were a few men with concert t-shirts and some fashionistas. But mostly they were rock-and-roll aficionados."
Since then, City Winery has hosted several wine pairing events featuring the music of Joni Mitchell, Bob Dylan, and Stevie Wonder. Last year CW co-hosted an event with New York's local classic rock radio station—Q104—pairing twenty wines with the Top 20 Greatest Rock Songs of All Time.

Next on the agenda is a much-anticipated and much touted John Lennon wine pairing. This event, co-hosted with "Theater Within" will take place on Sunday October 9, 2010, in celebration of Lennon's 70th birthday party. A whopping nine musical guests will take the stage at this event, each of them performing a set of their favorite Lennon songs. And each set will be paired with a Lennon-inspired wine of course.
This event is being offered in conjunction with the Food Network New York City Wine & Food Festival, and all net proceeds will benefit the Food Bank for New York City and Share our Strength. For more information and ticket prices, visit www.citywinery.com.
"Ever consider a Pink Floyd pairing?" I joked.
"Nah, too much of a downer. We'll leave them to the midnight laser-light shows."
Michael Dorf's Suggested Wine Pairings:
For those of you who wish to curate your own at-home Led Zeppelin wine party, City Winery suggests (in addition to the three wines mentioned above):
William Fèvre Chablis 2006 with "Misty Mountain Hop"
(The song, and the wine, evoke the cool hills of Chablis; and both have the "sharp, jarring tingle of acidity.")
Truchard Carneros Pinot Noir 2005 with "What Is And What Should Never Be"
(The voluptuous texture of this Pinot enhances the mellow vibe of this mellow tune. Taste the soft fruity extract of that bass line!)
Padrillos Mendoza Malbec 2007 with "Black Dog"
(This ink-dark wine's overall personality is in sync with the tune: thumping, driving, and hard-edged.)
Lee Harrington is the best-selling author of the memoir: Rex and the City: A Woman, a Man, and a Dysfunctional Dog (Villard: 2006) and of the novel The Beautiful and the Good. At night, she sings in an all-female Who tribute band called "Pictures of Lily."