Marylou's was a New York restaurant that closed in 2001, but in its day was a real gem. Located in a brownstone in the West Village, the restaurant's great food and atmosphere attracted a list of celebrities that included Jack Nicholson. Co-owner Tommy Baratta, Marylou's brother, not only became good friends with Nicholson, but became his personal chef as well – and wrote a cookbook with Marylou titled Cooking for Jack.

My most vivid recollection of Marylou's takes me back to 1986. I was having dinner with a woman whose raven hair was in perfect contrast to her radiant smile, when Jerzy Kosinski approached our table. His intent was not to dazzle us with his fame nor with a story, but, instead, with a series of photographs.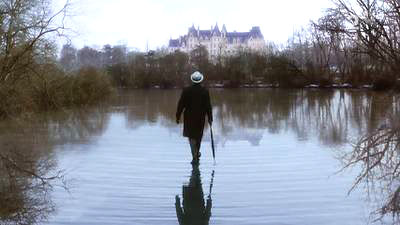 The photos showed Kosinski in a swimming pool, floating vertically, with his head fully above the water and his feet tucked beneath him. He wanted to share with us his sense of achievement, and hoped that our eyes would reflect a sense of wonderment.

Why he came to our table, I haven't a clue. I had never met him before, and neither had my date. But prior to any introduction, he just launched into his presentation and showed us the photographs, taking time with each one, although all the shots were virtually the same.

My mind began to wander, connecting this rather odd moment to the final scene in the screen version of Being There. I pictured Kosinski, the award-winning writer, on location during the filming, standing with Chance, the gardener (a.k.a. Chauncey Gardiner) – the childlike illiterate.

And I imagined Kosinski showing the photos to Chance – and Chance giving the same muted reaction he gave to everything else. And I pictured Kosinski watching Chance just walk away, crossing the lake on foot like it was Fifth Avenue.
Robert Keats is a screenwriter and humorist. He is currently developing a television series for Penny Marshall.