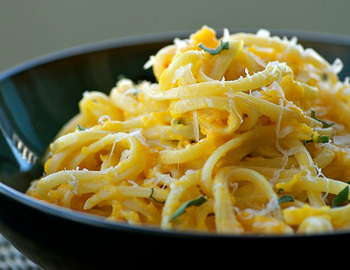 My dad is a competitive person, especially when it comes to the weather in wintertime. He'll call me from Rhode Island and say, "What's the weather like in San Diego?"

I tell him what I always tell him: "Oh, it's the same. Sunny and 70s."

Then, invariably, he'll say something along the lines of, "Yeah, it's was beautiful today in Rhode Island too. It was 44 degrees. It was so warm I had to take my jacket off."

Poor guy. Doesn't he know he just can't win the weather war? Search "best weather in the world," and San Diego always makes the list, along with other celestial destinations such as The Canary Islands and Cabos San Lucas. Consider this: In January 2011 Rhode Island earned the dubious distinction of "3rd Snowiest January in History." In San Diego, you can expect sunny skies and high 60s pretty much every day.
But he's my dad, and I feel bad. So I created this recipe for Butternut Squash Fettucine with him in mind. Sweet, roasted butternut squash, earthy sage and salty Parmigiano-Reggiano cheese get whipped into a creamy sauce that clings unabashedly to thick fettucine. It's the kind of dish that fills your belly and warms your body.

I can't make it warm in RI this week, but I hope this pasta fortifies him against those ice pellets on Wednesday.

Butternut Squash Fettucine
Makes 4 servings
=
1 medium butternut squash, about 1 1/2-2 pounds or about 4-5 cups cooked
1 tablespoon olive oil, plus some oil for brushing the squash before roasting
1 tablespoon butter
1 large shallot, thinly sliced
1 cup whole milk or half n' half
2 tablespoons fresh chopped sage, or more if you really like sage
1/2 cup freshly grated Parmigiano-Reggiano cheese, plus extra for garnish
1/4 teaspoon crushed red pepper flakes
1/4 teaspoons salt
8 ounces fettucine or other thick pasta noodles

1. Preheat the oven to 400 degrees F. Line a large, rimmed baking sheet with aluminum foil for easy clean up. Slice the squash in half and scoop out the seeds and discard. Brush the flesh with a little olive oil. Roast for 35-45 minutes or until tender when pierced with a fork. Let cool for 10 minutes before scooping out the flesh. Discard the skins. Mash and stir the squash with a spoon.

2. In a large pot over medium heat, warm 1 tablespoon olive oil and butter. Add the shallot and saute about 5 minutes until browned and softened. Add the cooked squash and milk and stir well. Bring to a slight boil. Then lower the heat and add remaining ingredients through salt. Cook, stirring occasionally, about 8-10 minutes, until sauce thickens.

3. Cook pasta in salted water until al dente or firm. Drain the pasta, reserving a cup or so of the hot pasta water. Add the pasta to the squash mixture, stirring until well coated. In small increments, add hot pasta water to thin the sauce, until desired consistency is reached. Heat through about 2-3 minutes. Taste it and adjust seasonings as desired. Transfer to a serving
Susan Russo is a free lance food writer in San Diego, California. She publishes stories, recipes, and photos on her cooking blog, <Food Blogga and is a regular contributor to NPR's <Kitchen Window. She is also the author of Recipes Every Man Should Know
.