The River Cafe
by Michael Elias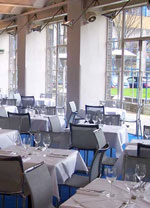 The good thing about having a sister who owns a restaurant – and The River Café is a great one in my opinion – is that when she's cooking my son is allowed to order 'off the menu'. In his case it's a plate of the most wonderful creamy pasta carbonara. Made special for him with egg yolks the color of oranges, peppered pancetta and the parmesan cheese hand carried from Parma, I suppose. The bad thing is that my sister won't let me have any. "You don't need it", she says looking at my waist. So it's the regular menu for me.
I start with Puntarelle alla Romana – thinly sliced cicoria shoots with anchovy, dried chili and herb vinegar, then have a bowl of Farinata di Polenta – Tuscan soup with cavolo nero, stock, parmesan & I Canonici 2007 olive oil, and finish with a slab of the Branzino ai Ferri – chargrilled fillet of wild sea bass slashed & stuffed with winter herbs with potatoes & trevise 'al forno', marjoram and capers.  I don't have the courage to order the Chocolate Nemesis (recipe below) and instead have Pannacotta with grappa for desert.
 
Of course there is always the possibility that my dear boy will have eaten too much bread dipped in olive oil while waiting for his 'off the menu' pasta carbonara and my sister Ruthie and her partner Rose will be busy at a corner table writing the dinner menu so I can safely say, "Fred, we don't want the rest of that pasta to go to waste, do we?" And he will respond graciously, as he knows he should, "Whatever."
Michael Elias has eaten well in Los Angeles while pursuing a career in show business. He remembers and misses old Spago,  Joe Allen, Ports, and The Black Rabbit.  
Chocolate Nemesis Cake 
Preparation time: 25 minutes
Cooking time: 30 minutes
Serves Six

12 ounces dark baking chocolate, broken into small pieces
5 eggs
1 cup plus 2 tablespoons superfine sugar
2 sticks softened unsalted butter
2 tablespoons butter and 1 tablespoon all-purpose flour for the cake pan
1 cup water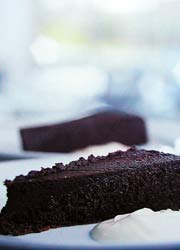 Preheat the oven to 300°F. Line an 8-inch diameter shallow cake pan 2 inches deep with nonstick baking paper, then grease it with butter and sprinkle with flour. Beat the eggs with one third of the sugar until the mixture quadruples in volume (this operation will require beating for around 10 minutes with an electric beater). Heat the rest of the sugar in a saucepan with 1 cup water until the sugar dissolves into a syrup. Add the chocolate pieces and the butter. Mix well. When smooth, remove from the heat and leave to cool. Pour the mixture over the eggs while it is still slightly warm and continue to beat gently until it is smooth (no more than 20 seconds). Pour the mixture into the prepared cake pan and place the pan in a roasting pan of hot water. The water must come right up to the top of the mold, so that the cooking is uniform.

Bake it for 30 minutes in the oven until it has set. Check for doneness by gently placing the palm of your hand on the surface. If it is not set, continue cooking. Cool the cake in the pan before turning upside down to unmold onto a cake plate.
Recipe by Rose Gray & Ruth Rogers
 
The River Cafe
Thames Wharf
Rainville Road
London W6 9HA
From the book Great Women Chefs of Europe
Click on a photo for a larger image
New York


by

Libby Segal





It is not every day that I meet a furry friend on my travels through coffee shops. Normally, I find a heart shape design or a leaf, or a flower in the foam of my cappuccino-- a symbol of my...

Read more...

New York


by

Michael Tucker





We ate some wonderful Venetian bar food at Bacaro last week. Tucked away on adorable Division Street that runs on a slant between Chinatown and the Lower East Side, Bacaro unwinds down the...

Read more...

Boston


by

Kitty Kaufman





Since 2010, Island Creek Oyster Bar's holding the corner at 500 Commonwealth in Kenmore Square. Any time after four, you'll find 175 of the happiest people in Boston. When I go by on my walk, it's...

Read more...

Colorado


by

Haley Schultheis





If there is one type of restaurant certain to make a list of things I adore, it's a cozy bakery and café. There is a peaceful and neighborly feel about such a place. Yes, Tiffany's is to Holly...

Read more...