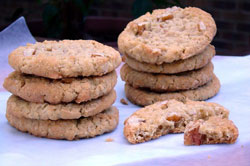 Sometimes it's surprising to find what a recipe box can hold.
I was going through my mom's recipes the other day. I remember telling her years ago that the only thing I wanted when she died was her recipe box. She'd always chuckle and say something like, "Oh, Sue, you sure don't ask for much." And at that time, I didn't think she'd ever really die.
Well, she died 14 years ago and now I have all her recipes. Her recipe collection is a picture of organization. She worked as an office manager for many years, and her recipe box is an indication of her typing skills, for sure. There are no newspaper clippings taped onto recipe cards. Each recipe has been typed with her own hands onto recipe cards. I'm so glad she saved the cards from friends who had handwritten recipes that she asked for. Those are in the box just as they were written. I'm sure my mom was very tempted to type those, too.
As I slowly flipped through the cookie section, I noticed several recipes from one of her best friends, Lois. She was apparently a great cookie maker. Lois lived right behind us as I was growing up. Her children were my playmates. Her husband was my dad's best friend. I was with them last weekend. Lois didn't make cookies, but she did make a delicious chocolate cake, from scratch, of course. I'm pretty sure I remember eating the oatmeal cookies Lois is famous for. My mom did type that recipe and in one corner she typed 1977. I remember my mom thinking that this recipe was really the cat's meow. She could mix up the dough whenever she had some free time, roll it into long logs, and then store it in the refrigerator until she got around to slicing and baking them.
I decided to make the Oatmeal Cookies from the recipe that Lois gave my mom and that my mom typed onto a file card. As I mixed the dough, I remembered my mom's chuckle and I could see her hands holding her favorite wooden spoon, stirring up the dough. Of course, the logs had to be shaped just so, evenly proportioned from end to end. I remember she wrapped the logs of dough in waxed paper and then placed them on a small baking sheet to store them in the refrigerator. I did the same things.
With the first bite of a baked Ice Box Oatmeal Cookie, I remembered sitting around the table at Lois's house with mugs of hot chocolate and cookies after ice skating with the kids I grew up with. I could feel and smell the cool early autumn evenings when we'd all be out playing hide and seek in the dark and then go inside for cookies and hot chocolate. I could feel the cool grass as my body rolled down the hill that separated our house from the back neighbors. It seemed we could spend the longest time running up the hill and then rolling down again.
All from a cookie baked from a recipe in mom's recipe file. It really is amazing what you may find in a recipe box.

Lois's Ice Box Oatmeal Cookies
1 cup shortening
1 cup brown sugar
1 cup white sugar (granulated sugar)
2 beaten eggs
1 1/2 cups flour
1/2 teaspoon salt
1 teaspoon baking soda
3 cups dry oatmeal (uncooked quick-cooking oats)
1 cup chopped nuts
Cream shortening and sugars. Add beaten eggs. Sift flour, salt and baking soda together. Stir into creamed mixture. Add oatmeal and mix well. Stir in chopped nuts. Roll dough into a few logs, each about 1 1/2 inches in diameter. Wrap the logs of dough in waxed paper. Chill in the refrigerator until you have time to bake them. Slice the logs into 1/2-inch thick rounds. Place on baking sheets and bake at 350 degrees for 8 to 10 minutes. Transfer the baked cookies to a wire rack to cool. Makes about 4 dozen cookies.
I found that a long, sharp knife worked best for slicing the logs. A serrated knife pulled the dough and caused crumbling.
I used chopped pecans in the cookies -- delicious!
Sue Doeden is a popular cooking instructor, food writer and integrative nutrition health coach. She is the host of Good Food, Good Life 365 on Lakeland Public Television. Her own hives full of hardworking bees and her love of honey led to the creation of her recently published cookbook, Homemade with Honey.