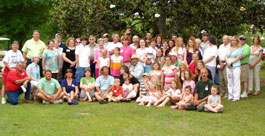 My favorite all time saying is that 'you can pick and choose your friends but not your family.' Perhaps that's because I have some extended family members who are constant reminders of that famous quote.
My immediate family is very close as well as my 1st cousins, aunts and uncles and for the most part, I would choose to be friends with them. However, I do have some cousins "that don't know me and I don't know them" and would prefer to keep it that way. I have been known to desert my grocery cart and flee when I catch a glimpse of them at the grocery store. These people and their lifestyles made Jeff Foxworthy rich and famous.
I received an invitation several months ago from one of mother's cousins inviting me to a family reunion in Cordele, Ga. The invitation was very simple and said 'BYO lawn chair.' A 'lawn chair?' I'm sorry but I prefer to sit in my living room or my patio. I don't have a chair that I take outside and sit on the lawn. The last memory I have of people sitting in lawn chairs was of my grandmother and her sisters. On Sunday afternoons they used to sit in lawn chairs, shelling peas and swatting nats. My grandmother's sister, Aunt Nell and her husband Victor used to take Sunday drives and visit family. There were 7 siblings in my grandmother's family so they had plenty people to visit on Sunday afternoons. They never phoned to say they were coming, but their arrival in a Chrysler that seats about 20 and 10 honks of a horn and Aunt Nell with her long "May West" hairdo leaning out the window, yelling my grandmother's name, "Hazel, we're here" was enough to wake up the dead in the near by cemetery.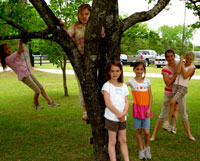 Uncle Victor would pop the trunk and next thing you know they were pouring whiskey from their innovative built-in bar, back in the days before there were any drunk driving laws passed, I think. Until the day he died, Uncle Victor would always extend his hand and introduce himself to me, "Hello, I'm Victor Kaminsky, your grandmother's sister's husband, Victor Kaminsky." I would shake his hand, take a deep breath and run into Aunt Nell's arms, receiving a hug so tight my oxygen supply would be temporarily cut off. Wiping the cherry red lipstick stain off my cheek, I would go about my merry way, entertaining myself by climbing a huge magnolia tree, searching for bird nests or running through the sprinkler. As I sat in the magnolia tree, the sound of their laughter echoed throughout the neighborhood. I used to wonder what could possibly be that funny, so funny that I remember one time Aunt Nell was laughing so hard, she fell over backwards in her lawn chair.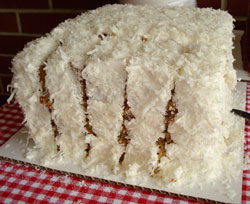 When the laughter ceased I knew it was time for another favorite afternoon pastime, having a slice of cake and a glass of sweet tea. I would make my way down the magnolia tree, take a seat in the circle of lawn chairs and wait for my grandmother to bring the cake out. She would kick the screen door open with her foot, carrying a cake stand with a fresh baked cake in one hand and a stack of pretty glass cake plates in the other. Aunt Nell closely followed with a pitcher of sweet tea and a tray of glasses filled with ice cubes that were perfectly square, just broken from an ice tray because they thought ice from ice makers tasted funny. I knew it was either a lemon or coconut cake because my grandmother only made three cakes and she only made her chocolate cake at Christmas.
I'm fairly certain that is the last time I sat in a lawn chair. How appropriate to be invited to a family reunion celebrating the lives and families of Hazel and Nell as well as their other siblings and being asked to bring a lawn chair. Hazel and Nell are no longer with us but sister Marion and brother Joe are alive and well with all the spunk and sparkle of their older sisters. There were 75 of us who gathered at a cousin's farm, on a recent warm, Spring day. We sat in lawn chairs scattered amongst the trees, not too far from the donkeys and horses who grazed in the nearby field.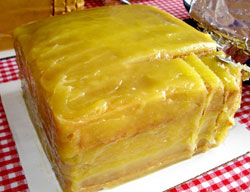 The dinner bell rang, a prayer was said and off we went to the elaborate buffet set up in the garage. My eyes were immediately drawn to the checker-board, table-clothed desert table and there sat a lemon cake and a coconut cake. I had to believe it was the same lemon and coconut cakes that I used to sit and eat on a lawn chair at my grandmother's house. Turns out I was right.
I filled my plate with barbeque, ribs, baked beans, potato salad and cole slaw, sat down at a picnic table and savored every bite. When it was time for desert, I got a piece of both the lemon and coconut cake, sat in a lawn chair in the front yard in full view of my little nieces with their newly discovered little cousins, climbing and swinging from a tree, (something I've never seen them do) and hoped that someday they would have the same wonderful, fond, memories of a very special family that I do.
This is my grandmother, Hazel's lemon cake recipe. It is beyond decadent! This recipe calls for 2 loaf pans but sometimes she made it as a 2 layer cake.

Grandma Hazel's Lemon Cake
½ pound (2 sticks) unsalted butter, at room temperature
2 cups sugar
4 extra-large eggs, at room temperature
1/3 cup grated lemon zest (6 to 8 large lemons)
3 cups flour
½ teaspoon baking powder
½ teaspoon baking soda
1 teaspoon kosher salt
¼ cup freshly squeezed lemon juice
¾ cup buttermilk, at room temperature
1 teaspoon pure vanilla extract

Syrup:
½ cup sugar
½ cup lemon juice

Glaze:
2 cups confectioners' sugar, sifted
3 ½ tablespoons freshly squeezed lemon juice

Preheat the oven to 350 degrees F. Grease and flour 2 loaf pans. (or 2 round cake pans if making a layer cake)
Cream the butter and 2 cups granulated sugar in the bowl of an electric mixer fitted with the paddle attachment, until light and fluffy, about 5 minutes. With the mixer on medium speed, add the eggs, 1 at a time, and then the lemon zest.

Sift together the flour, baking powder, baking soda, and salt in a bowl. In another bowl, combine 1/4 cup lemon juice, the buttermilk, and vanilla. Add the flour and buttermilk mixtures alternately to the batter, beginning and ending with the flour. Divide the batter evenly between the pans, smooth the tops, and bake for 45 minutes to 1 hour, until a cake tester comes out clean.

Combine 1/2 cup granulated sugar with 1/2 cup lemon juice in a small bowl. Microwave for one minute and stir until the sugar dissolves. When the cakes are done, allow them to cool for 10 minutes. Remove the cakes from the pans and set them down UPSIDE-DOWN on a rack set over a tray or sheet pan; spoon the lemon syrup over them. Allow the cakes to cool completely. Make sure when you turn them right-side up that you don't let the top of the cake stick to the rack, or the tops of your cakes will not be as pretty as you want them to be.

For the glaze, combine the confectioners' sugar and the lemon juice in a bowl, mixing with a wire whisk until smooth. Pour over the tops of the cakes and allow the glaze to drizzle down the sides.
Laura grew up in a small southern town in Georgia on a cotton and pecan farm where life centered around family, friends and good food. She has lived in Atlanta for 20 years and has been a Flight Attendant for a major airline for 18 years, traveling the world in search for the next best meal.