Cooking With My Sister: Studio Apartment Pesto
by Ashley Van Buren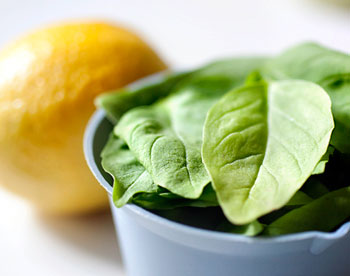 The first time my sister cooked for me, we were both in our 20s and living together in my 500 square foot studio apartment on the Upper West Side of Manhattan. It was the day I had quit my job working in book publicity and had decided to go back to freelance film production work. My sister, Alexandra, having just finished up her first transfer semester at the Fashion Institute of Technology, wanted to make us a home-cooked meal to celebrate our big life changes. She was already cooking by the time I arrived at our apartment that evening. I smelled pasta boiling and lots of lemon and basil. I started over towards the blender to take a sniff, but she shooed me away. "It's almost done. Go and sit down."
I sat at our table on which she laid our matching set of dishes, mismatched place mats and glasses, paper napkins, and a bowl of plain, chopped romaine lettuce. I heard the blender whirring and stopping a few times as she scrapped the mixture down from the sides. "Hey, what cookbook did you get this recipe out of?" I asked. Despite the pint-sized apartment, we had huge built-ins for all of my books and my growing collection of cookbooks. I hadn't been cooking for very long, but, as far as I knew, Alexandra had never made a full meal in her life. "It was in my head," she replied, as she poured a steaming pot of penne into a colander.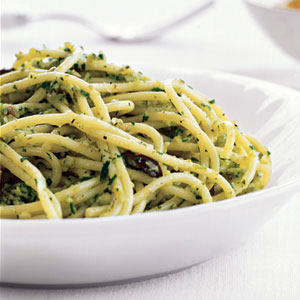 After some rattling of bowls and a few choice curses, she emerged from the kitchen area carrying a large glass bowl of pesto pasta to the table. I took my first bite before she did. She was waiting for me; her brown eyes watched my face for my first reaction. All I could taste was pasta covered in the most acidic flavor imaginable. My taste buds immediately shut down and my tongue went numb from the sensation overload; my throat burned.
"What's in this pesto?" I tried to chew and swallow quickly, despite the fear acid reflux would soon rear its ugly head.
"Basil and lemon juice. A lot of lemon juice...almost 2 cups because I didn't want to use olive oil. I figured it was healthier this way."
She took a bite, started chewing, stopped, and spit it out in her napkin. Without any expression of revulsion or defeat crossing her face, she remarked, "So olive oil is actually necessary. What else am I missing?" I restrained myself from making a snarky comment and instead grabbed The Silver Palate Good Times cookbook off the shelf and opened it to page 63, home of my favorite pesto recipe.
ARUGULA AND BASIL PESTO
1/2 cup pine nuts
6 cloves of garlic
5 cups of arugula leaves (2½ bunches), well rinsed and dried
1 cup fresh basil leaves
3/4 cup of olive oil
Juice of 2 lemons
Salt and freshly ground black pepper, to taste
3/4 cup freshly grated Parmesan cheese
1. Place the pine nuts and garlic in a food processor fitted with a steel blade or a blender and process to a paste.
2. Add the arugula and basil leaves, two handfuls at a time, and process to a thick green paste.
3. With the machine running, pour in the oil in a thin steady stream. Add the lemon juice and salt and pepper to taste and process until blended. Add the Parmesan and process until blended.
Makes 1½ pints
My sister has made pesto (and many other recipes) several times since then. Though she's still heavy on the lemon, she now knows there are times when olive oil is essential and, if all else fails, New York City food delivery is available 24/7, which we utilized that night by ordering a Margherita pizza, hold the basil.
Ashley Van Buren is the U.S. Editor for JamieOliver.com and contributes writing to several other .coms. If you read quickly, you can catch her name in the credits of seven feature films. She also blogs sporadically at thebrow.org."
Los Angeles


by

Jo Stougaard





Twenty years ago when I lived in San Diego, my ex-husband and I loved eating at Karinya Thai Cuisine. The restaurant was up the street from our home in Pacific Beach, and it was our "go to"...

Read more...

San Francisco


by

Scott R. Kline





Joe's Cable Car Restaurant in San Francisco is where "Joe Grinds His Own Fresh Chuck Daily". A large sign on the outside of the restaurant declares this in bold type. Joe's has been around since...

Read more...

Southern California


by

Lisa Dinsmore





Though I'm not a betting person, I would have put my small stash of savings on the line if anyone had told me a year ago that I would become a seafood lover. While still not on the sushi...

Read more...

Georgia


by

Lou Jane Temple





Mrs. Wilkes has passed away, but her family and staff on Jones Street are carrying on her tradition. You still sit at big round, oak tables with strangers. You still take your own dirty...

Read more...