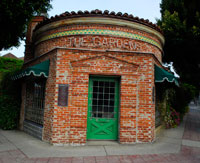 Built in 1933, the handsome round red brick building was callled "La Ronda de las Estrellas ("the round court of the stars") which provided Westwood village with its early identity. On the south wall of La Ronda (on the Lindbrook drive side) is a hand painted fresco (now faded) of a maid and a man of old Spain, playing his guitar, painted by artist, Margaret Dobson, who flew in from France to do the work, when the building was erected.
La Ronda was open in the center like a doughnut and several little businesses were housed inside the ring. The first little restaurant established in the Village, called the Talk Of The Town, was housed in what we now call the Studio (where everyone wants to sit, particularly the celebrities). Additionally, there was a childrens boutique called Dina Carroll which offered expensive childrens clothing from Europe and a fine stationery store called Hazel Crist that is situated in what is now our Kitchen.
Of course, Wil Wright's ice cream parlor was probably the most well known tenant, with its famous red and white stripes and little angel with wings motto,"It's Heavenly"... and it was ...Wil Wright served the richest ice cream (32% butterfat but who knew...) and do you remember the macaroon cookies in the little cellophane bags?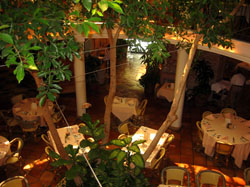 The Westood Chamber of Commerce resided at La Ronda, also, through the 60's in what is now our balcony. In 1985, we took it over as the Hamlet Gardens—it was then, we acid washed the brick interiors to make a soft peachy al fresco feel and enclosed the out door center ring with a magnificent sunlit glass dome in order to grow a little 12 ' ficus tree, which we dragged in with ropes and set it there to grow a gorgeous 30' high luscious verdancy.
We sold all the memorable Hamburger Hamlets and its loveable Bohemia in 1987 and simply had to have our Gardens back. We were so happy to achieve this, and renamed it The Gardens On Glendon. Our Lewis family, Harry, me, Marilyn, Adam and David Lewis are still there and feel it is the Jewel in our crown. We live with these memories as do so many Westwood Villagers and everyone loves the history... didn't you?