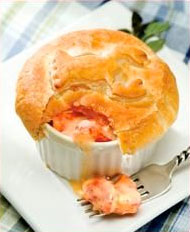 Whether you choose individual ramekins or create a large pie, this recipe is meant to be general in its directions. Since I have no pastry skills, I will choose what seems the simplest way to make the pastry. Surely you will do better left to your own cleverness.
Ingredients:
1 lb cooked lobster meat, cooked and cut into small chunks
¼ pound unsalted butter
1- 1 ½ cup chopped onions
½ cup chopped celery
½ cup all purpose flour
1-cup sweet peas (frozen)
I cup diced carrots, blanched
(Pearl onions or mushrooms could be added to taste… I prefer a simpler palette)
1-2 cups diced potatoes, partially cooked
Sea salt and white and/or black pepper to taste
2 cups lobster stock (clam or chicken broth can be substituted)
½ cup heavy cream
1/3-cup fresh parsley
A touch of hot sauce
Pastry:
3 cups all-purpose flour
1 ½ teaspoon salt
1teaspoon baking powder
8 tablespoons cold fresh lard (diced… ¼ pound)
½ to 2/3-cup ice water
1 egg beaten with 1-tablespoon water or heavy cream
Directions:
Preheat the oven to 375°F. Grease ramekins or pie dish and set aside.
In a large sauté pan, melt the butter and the onions and celery and sauté until the onions are translucent. Add the flour and cook on a low heat for about 3 minutes stirring occasionally. Slowly add the stock. Season with salt and pepper and simmer for about 5 minutes. Add heavy cream and splash of hot sauce. Put lobster, peas, carrots, potatoes and parsley into a bowl. Pour the sauce mixture over the lobster and add any other seasoning. Set aside.
For the crust, put into a food processor the flour, salt and baking powder. Add the lard butter and pulse until the fat is the size of peas – about ten pulses. Dump the dough onto a floured surface and knead into a ball. Chill for 30 minutes.
If you are making a single pie, divide the dough in half and roll out each half to fit a 9 or 9 ½ inch x 2 inch high ovenproof baking dish. Place one crust in the dish and fill with lobster mixture and top with the second crust. Crimp the crusts together and brush with the egg mixture. Slash about 4-6 slashes on top and bake for 1 hour or so until the top is golden brown and the filling bubbling hot.
As a variation add cognac and sherry with a tablespoon of tomato paste for a Lobster Bisque Pot Pie.
- Recipe courtesy of Nancy Ellison