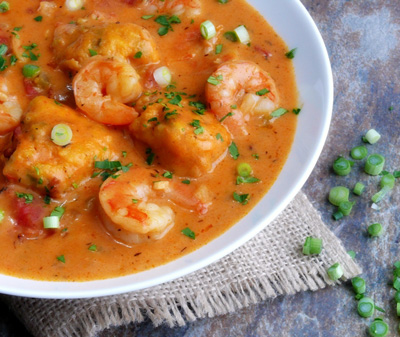 Serves: Makes 6 cups and 12 dumplings
Ingredients:
For the soup:
3/4 pound raw large shrimp, deveined and tails removed
4 slices thick cut bacon, diced
1-1/2 cups celery, diced
1 cup yellow onion, diced
1 Tablespoon garlic, minced
1/3 cup all-purpose flour
3-1/4 cups chicken stock
3/4 cup V-8 juice, original flavor
1 can (14.5 ounces) diced tomatoes
2 Tablespoons lemon juice
2 Tablespoons Worcestershire sauce
2 Tablespoons Tabasco
1 teaspoon dried thyme
1 teaspoon sugar
1/2 teaspoon cayenne
1 bay leaf
1/2 cup heavy cream
1/4 cup chopped fresh parsley
1/4 cup scallions, minced
For the dumplings:
3.4 ounces (about 3/4 cup) all-purpose flour
1/3 cup finely chopped green onions
1/4 cup yellow cornmeal
1/4 teaspoon baking soda
2 Tablespoons chilled butter, cut into pieces
1/2 cup buttermilk
Directions:
Cook chopped bacon in a Dutch oven over medium heat until crisp. Remove half the cooked bacon from the pan and 1 Tablespoon drippings (keep separate), reserve this for the dumplings.
Add celery and onion to the remaining bacon and drippings and cook until softened, about 5 minutes. Add garlic and saute for 30 seconds more. Whisk in flour and cook until incorporated, about 1 minute.
Stir in stock, V-8, tomatoes, lemon juice, Worcestershire, Tabasco, thyme, sugar, cayenne and a bay leaf. Bring to a boil, cover and turn down to a simmer for 15 minutes while it thickens. Add heavy cream after the soup has simmered its 15 minutes.
Meanwhile, for the dumplings, combine flour, green onions, cornmeal and baking soda; whisk together. Cut butter into flour mixture with a pastry blender or 2 knives until mixture resembles coarse meal. Add bacon, reserved 1 Tablespoon of drippings and buttermilk; stir until a moist dough forms. Gently divide mixture into 12 equal portions.
After soup has simmered for 15 minutes, drop dumplings, 1 at a time into pot. Cover and cook 8 minutes, carefully turning them halfway through the 8 minutes. Add shrimp and cook for three more minutes or until shrimp are opaque in color.
Garnish each bowl with parsley and scallions.
~If you think this might be too spicy for you, only add 1/2 of the Tabasco and cayenne at first. Taste to determine if you want to add more.
- Recipe courtesy of Cathy Pollak