Letters from Heaven
by Laraine Newman
You want to know just how wonderful my husband is? Well, in 2004 my dad died and my grief was crushing. I gained 40 lbs. and cried at the drop of a hat for about 2 years. Chad got a .mac account in my dad's name and starting emailing me as my dad during certain milestones like my birthday. Not only did Chad completely capture my dad's way of speaking, but he kept up the derisive insinuations my dad would make about him just to make me laugh. Notice how he refers to Chad as 'what's his name' and 'Chaz'. My dad's nickname for me was Pie. I don't know why. I still miss my dad terribly, but the pain isn't as bad anymore. These emails my husband writes are so vivid and represent my dad's sensibility so accurately, that for a brief moment, he is with me again. How lucky can ya get?
Dear Pie,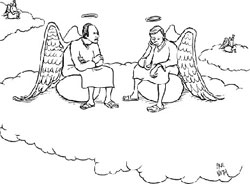 How are you my daughter? Sorry I've not written in a while but I've been pretty busy up here. Seems that God has been having some problems with his Tivo and well I'm the only one that seems to be able to program the damn thing. Just what I get for being the only competent Jew in the whole bunch up here, huh? So, how have you been? Oh, wait never mind. I'm looking down over you everyday so I already know. Want to know what I think? I think you're doing better than you realize. From where I sit, (and you would hate the view, I know how you hate heights and all,) your life is pretty amazing. You've got two beautiful daughters, dear friends who still care about you and what's his name, to look after you, protect you and lift all of your heavy objects. Oh, and by the way he's right about the garage sale, (Jesus, I could hear you guys even in the can up here.) But don't tell him I said so. (Remember, never let him think he's got the upper hand;)

Seriously Pie, you are my greatest joy. Your life is a true testament to all I worked for all my life. You're beautiful, honest, hardworking, and above all a damn good mom. Your Mother and I, (yes she's says hi, too, she would have wanted to write but the lord has her helping with a remodel of the palace up here in the kingdom of heaven. I'm constantly surrounded by swatches and color charts, oy!), couldn't be more proud of you. Just remember, you are the person you've always wanted to be. You are the daughter I always wanted. I love you and I'm watching over you and keeping you, the girls, and Chaz safe. Oh, darn. I gotta go, right now. St. Peter needs a break at the front gate. Who else would they let sit in for him? A lawyer's work is never done.

Happy Birthday my beautiful daughter.

Love you Pie,

Dad.
Laraine Newman is a founding member of The Groundlings Theatre Company and an original cast member of Saturday Night Live. She lives in her hometown of Los Angeles with her husband and two daughters.

New York


by

Anna Harari





I first fell in love with Indian food while working at a company in West Hollywood and my boss, who was a true asshole with excellent taste in food, always ordered lunches from Anarkali. I...

Read more...

Texas


by

David Latt





Buffalo Gap is only a few miles south-west of Abilene. The small town (population 463) has a fascinating Historic Village, a must for any western history buffs.

The jewel of Buffalo Gap is Perini...

Read more...

Chicago


by

Sue Doeden





Located along the south end of Lincoln Park along Clark Avenue, Chicago's Green City Market bustled with activity on Saturday morning. Young parents pulling wagons loaded with children eating an...

Read more...

Maine


by

Brenda Athanus





The A-1 diner at 3 Bridge Street in Gardiner, Maine is an old Worcester Streamliner diner car brought to its present location by truck in 1946 and installed on long Erector-like legs to bring it...

Read more...