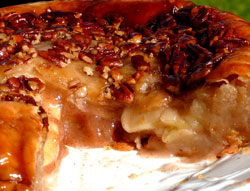 If you consider yourself "pie crust challenged", this recipe is your new best friend.  I first saw this pie over at Lisa's blog and I knew I had to give it a try, it looked delicious.
While I have no problem making pie crust, so many people have had bad experiences making pie crust from scratch and have just given up.  It does take practice.
This recipe was intriguing as it uses refrigerated pie crust.  I normally do not like the texture of refrigerated pie crust as opposed to homemade but a homemade pie crust is unnecessary here.  With all the sticky goodness on top of this pie your crust efforts would be lost in the shuffle.  Save homemade crust making for another pie where the crust is showcased.
This pie is absolutely fantastic and after the hubby and I ate our share, we both agreed we prefer this apple pie to regular apple pie any day.  That shocked me, but it's that good.  The flavor is out of control gooey, cinnamony and just overall out of this world. 
We are just done with regular apple pie...can you believe it?  I still can't.
Make this, make this, make this for Thanksgiving, you will save yourself a million hours and can concentrate on other desserts you want to serve. 
Also, you do not have to worry about making the crust look pretty with fluted edges because you are going to flip it over, another plus.
Upside Down Apple Pie
6 Tablespoons butter, melted & divided
1/2 cup packed light brown sugar
1/2 cup chopped pecans
2 refrigerated pie crusts
1 cup granulated sugar
1/3 cup all purpose flour
3/4 teaspoon cinnamon
1/4 teaspoon apple pie spice (I added this, it was not in the original recipe)
5 large Granny Smith apples, peeled, cored & cut into 1/2" slices
Coat a deep-dish pie plate with nonstick cooking spray and line it with parchment paper.  Coat the paper with cooking spray also.  Now, I used a deep-dish pie plate, the Emile Henry brand from Williams-Sonoma and it is a little deep for refrigerated dough (there is not a lot of hangover for sealing the two crusts together).  I think a regular pie plate would be fine.
 
In a small bowl combine 4 Tablespoons of melted butter, brown sugar and pecans.  Mix well and spread evenly over the bottom of the pie plate, on top of the parchment.  Place one of the crusts in the pie plate, pressing it firmly against the nut mixture and up the sides of the plate.  Set aside.

In a large bowl, combine granulated sugar, flour, cinnamon and the remaining 2 Tablespoons of melted butter.  Mix well.  Add the apples in and toss gently to coat.  Spoon into the pie crust.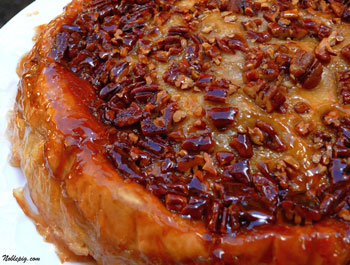 Place the second crust over the apple mixture.  Trim and fold the edges together to seal and cut some slits in the top of the crust for venting.  Because my pie dish is so deep I sealed the edges the best I could.  I really couldn't fold and seal but it didn't matter at all.
 
Bake 1 to 1-1/4 hours or until crust is golden brown in a 375 degree oven.  (Mine took 1-1/4 hours in the bottom third of my oven.)  Make sure to place a cookie sheet on the bottom oven rack to catch any drips from the pie.

Let the pie cool for 5 minutes and then place a plate that is larger than the pie on top of it and flip it over.  Use oven gloves as it will still be hot.  Remove the pie plate and gently lift the paper.  Allow to cool.  Serve warm or at room temperature.
--Recipe from Mr. Food.com 
Cathy is currently in the development stages of her vineyard and winery in the Willamette Valley of Oregon.  She is a food writer for Davis Life Magazine and blogs daily about wine, food and everyday living.  She lives with her husband and two sons.  You can visit her at noblepig.com.