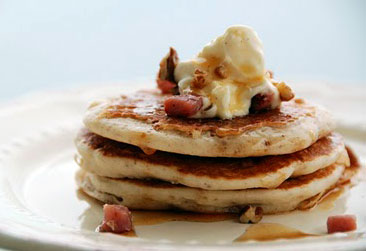 I can't make pancakes. Nope. Just can't. Other than my fleeting victory with Nigella's ricotta hotcakes last August (which technically aren't pancakes), I haven't had much pancake success.
I've tried recipes from Gourmet, Bon Appetit, Cooking Light, and even Martha. They always come too heavy or too dry or too flat.
So when Jeff and I felt like having pancakes on Sunday, I went where no respectful food writer goes – to the Bisquick section of the supermarket baking aisle.
There I furtively placed a box of Heart Smart Bisquick in my cart, proceeded to the checkout, and almost made it to my car, when I was accosted by the Food Blogging paparazzi. Despite my protestations, their persistence was formidable.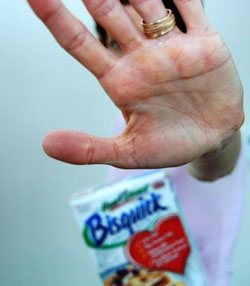 I was caught red (box) handed. I confessed on the spot.
I needed the Bisquick.
Let me tell you. It was worth it. I made savory, holiday inspired chestnut pancakes. They were the fluffiest, tastiest pancakes I had made in quite a while.
The interplay between the salty pancetta, the sugary maple syrup, and the sour creme fraiche is remarkably satisfying. Plus these savory pancakes balance the sweet gnocchi I made a few weeks ago.
Chestnut Pancakes with Pancetta, Creme Fraiche, and Cinnamon Maple Syrup
My inspiration for this recipe came from an original in Bon Appetit.
Makes 10 (3-4-inch) round pancakes.
1/4 cup coarsely chopped toasted pecans
1/3 pound pancetta, cut into 1/2-inch-dices
1 cup Heart Smart Bisquick
scant 3/4 cup milk (I used skim)
1 egg white
1/4 cup coarsely chopped bottled chestnuts
1/4 cup pure maple syrup, warmed
1/8 tsp ground cinnamon
Creme fraiche

To toast the pecans, place in a small, dry skillet over medium heat for about 1 minute, or until golden brown. Shake the pan handle gently to ensure even toasting. Remove from heat.

Cook pancetta in a medium skillet over medium heat until brown and crisp; transfer to a paper-towel lined plate.

In a medium bowl, add Bisquick, milk, and egg white, and mix well until smooth. Gently stir in chestnuts. Let batter rest for about 10 minutes.

Meanwhile, add maple syrup and cinnamon to a small pan and warm over a low simmer.

To make the pancakes, place a thin layer of canola oil on a pancake griddle over medium heat. Place a drop of batter on the skillet to make sure it's hot enough. Drop batter by rounded tablespoonfuls (about 1 heaping). Cook pancakes until golden brown and cooked through, about 2-3 minutes per side.

Transfer to a warm plate until ready to serve. Top with créme fraîche, pancetta, and cinnamon maple syrup.
Susan Russo is a free lance food writer in San Diego, California. She publishes stories, recipes, and photos on her cooking blog, <Food Blogga and is a regular contributor to NPR's <Kitchen Window. She is also the author of two upcoming books that will be published in the fall of 2010.