Roasted Mushrooms with Vermouth and Garlic
by Lisa McRee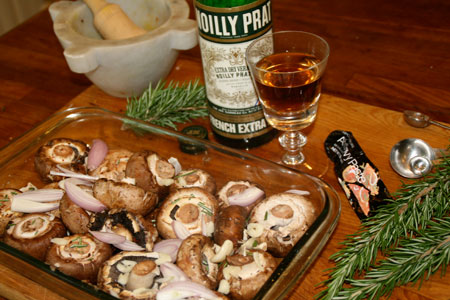 Steak and Mushrooms…Yum.
Like Batman and Robin, Lucy and Ethel, Mr. Roarke and Tattoo, they were perfect together….with meat being the star and the mushrooms happy to play sidekick.
But not anymore.
By having some fun with the fungi, trying different cooking methods and flavor combinations, you can now give mushrooms the starring role.
Serving your steak as a side may bruise its ego a bit, but the only loss you'll experience will be in your weight!
Try to use a mix of mushrooms if you can– some wild, some domestic– the different tastes and textures really stand out in this simple preparation.
Roasted Mushrooms with Vermouth and Garlic
1 lb. brown or wild mushrooms
1 teaspoon anchovy paste
1/2 cup vermouth
1 shallot, thinly sliced
2 tablespoons minced garlic, more if you love it
Sea Salt or Kosher Salt to taste
Red pepper Flakes to taste
1 tablespoon fresh rosemary, chopped
2 tablespoons chopped parsley, added after cooking
Preheat the oven to 425°F. Spray a small Pyrex roasting dish with cooking spray. Dissolve the anchovy paste in the vermouth and put it in the dish. Toss in the mushrooms, garlic, shallots, salt, red pepper and rosemary and roast, uncovered, for about 30 minutes, stirring halfway through. Let sit a few minutes before serving. Top with fresh parsley if you like.
After 25 years as a local and network anchor, Lisa McRee was just another American mother struggling, and failing, to lose weight. Finally, she cracked the code, and lost 30 pounds, quickly and for good, by doing what she loves: reporting, cooking and eating! Visit The Skinny to see how she did it.
Maine


by

Brenda Athanus





The A-1 diner at 3 Bridge Street in Gardiner, Maine is an old Worcester Streamliner diner car brought to its present location by truck in 1946 and installed on long Erector-like legs to bring it...

Read more...

Los Angeles


by

Lisa Dinsmore





I've studied wine for a decade and have worked on my palate, expanding my personal taste to include styles from all over the world. Red, white, sparkling, dessert. I've tried them all. Yet, when...

Read more...

New York


by

Michael Tucker





We ate some wonderful Venetian bar food at Bacaro last week. Tucked away on adorable Division Street that runs on a slant between Chinatown and the Lower East Side, Bacaro unwinds down the...

Read more...

New York


by

Alison Wonderland Tucker





"I just need to get out of the apartment." I whined to my friend Blaine on the phone.

"It's raining." He replied.

I looked out the window. It was just drizzling.

"I don't care. I need to do...

Read more...