Roasted Mushrooms with Vermouth and Garlic
by Lisa McRee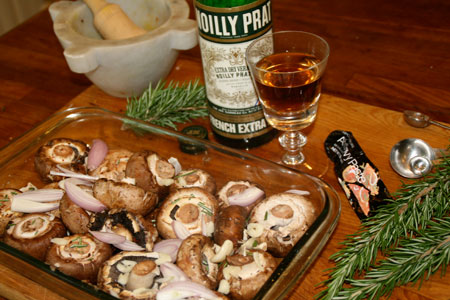 Steak and Mushrooms…Yum.
Like Batman and Robin, Lucy and Ethel, Mr. Roarke and Tattoo, they were perfect together….with meat being the star and the mushrooms happy to play sidekick.
But not anymore.
By having some fun with the fungi, trying different cooking methods and flavor combinations, you can now give mushrooms the starring role.
Serving your steak as a side may bruise its ego a bit, but the only loss you'll experience will be in your weight!
Try to use a mix of mushrooms if you can– some wild, some domestic– the different tastes and textures really stand out in this simple preparation.
Roasted Mushrooms with Vermouth and Garlic
1 lb. brown or wild mushrooms
1 teaspoon anchovy paste
1/2 cup vermouth
1 shallot, thinly sliced
2 tablespoons minced garlic, more if you love it
Sea Salt or Kosher Salt to taste
Red pepper Flakes to taste
1 tablespoon fresh rosemary, chopped
2 tablespoons chopped parsley, added after cooking
Preheat the oven to 425°F. Spray a small Pyrex roasting dish with cooking spray. Dissolve the anchovy paste in the vermouth and put it in the dish. Toss in the mushrooms, garlic, shallots, salt, red pepper and rosemary and roast, uncovered, for about 30 minutes, stirring halfway through. Let sit a few minutes before serving. Top with fresh parsley if you like.
After 25 years as a local and network anchor, Lisa McRee was just another American mother struggling, and failing, to lose weight. Finally, she cracked the code, and lost 30 pounds, quickly and for good, by doing what she loves: reporting, cooking and eating! Visit The Skinny to see how she did it.
Georgia


by

Lou Jane Temple





Mrs. Wilkes has passed away, but her family and staff on Jones Street are carrying on her tradition. You still sit at big round, oak tables with strangers. You still take your own dirty...

Read more...

Washington, DC


by

Joseph Erdos





Art & Soul, located just inside the Liaison Capitol Hill Hotel in Washington, DC, is Chef Art Smith's first restaurant in DC. Chef Smith, better known as Oprah Winfrey's former personal chef,...

Read more...

Los Angeles


by

Charles G. Thompson





Food in New York. I used to know it so well. When I lived there during the '80s and '90s, and worked in the food business I knew every place there was to know, and I went to most all of them. ...

Read more...

Los Angeles


by

Juliet Seniff





It's 4 o'clock on Sunday afternoon, and like any well-adjusted twentysomething, I'm eating breakfast. More specifically, I'm having brioche french toast and cappuccino at the Little Next Door on...

Read more...