Roast Pumpkin Fondue Recipe
by The Huffington Post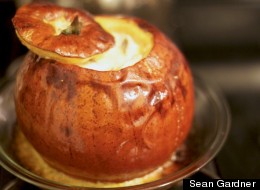 We can't think of many things we like better than fondue. We're also pretty fond of cooking things inside other edible things. The confluence of these two circumstances makes Gourmet's Roast Pumpkin with Cheese "Fondue" one of our favorite cold-weather recipes.
This pumpkin fondue recipe, proof that simplicity does not negate decadence, is probably not something you should eat every day -- even if you want to, like us. You'll understand why as you begin to fill the cavity of your pumpkin with toasted baguette slices, cream, stock and more cheese than you'd initially thought necessary.
After you've filled the pumpkin and rubbed the skin with olive oil, it goes into the oven where the pumpkin itself does all the work. You'll hear an occasional crackle in there, the air will start to smell delicious. Beware of smoking ovens from overflowing cream -- this happens nearly every time we make this no matter how much headspace we try to leave inside the pumpkin.
After an hour to an hour and a half, your perfectly burnished, gently sunken-in, bubbling over pumpkin will be ready to come out of the oven. The only looming battle you face is letting this monster rest for a few minutes, so that you and your loved ones do not burn your faces off.
We like to scoop the innards into individual dishes, making sure to scrape down the inside edge of the pumpkin skin for some of the tender, orange flesh. Serving this dish with some vinegary braised greens will make you feel just a tiny bit better about going back for seconds.
Los Angeles


by

Fredrica Duke





When I first met my husband, I told him that I'm part Native American. I'm also half Jewish. This is when he said to me, "You don't live on a reservation…you make them."

I'm sorry, but you will...

Read more...

Los Angeles


by

Laraine Newman





My idea of a good time is dragging my sorry ass up the stairs after a long day, plopping down on the bed, snuggling with my husband and watching re-runs of Law and Order or, if God REALLY loves...

Read more...

Chicago


by

Sue Doeden





Located along the south end of Lincoln Park along Clark Avenue, Chicago's Green City Market bustled with activity on Saturday morning. Young parents pulling wagons loaded with children eating an...

Read more...

New York


by

Nancy Ellison





We all know the few things in our lives that give us status above and beyond our own reality.

Our dog, Buzz (an apricot poodle that bears an uncanny resemblance to Rod Stewart), always attracts...

Read more...