Rethinking Fall Cocktails
by Tom Macy
From the Huffington Post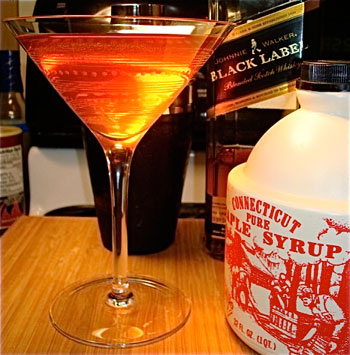 While summer cocktails conjure up a specific image -- usually of tiny umbrellas and slices of watermelon -- autumn brings about libations that are, shall we say, less photogenic. The dearth of the fresh ingredients that make summer drinks such colorful beachside accompaniments force harvest season cocktails into a comparatively substandard role. But this seems wrong considering the other pleasures we gleefully anticipate with first nip in the air. People salivate on line at Starbucks eagerly awaiting their pumpkin spice lattes and delight in slipping on lightweight jackets to compliment the blushing foliage. Why too shouldn't lifting the year's first glass of Apple Brandy be part of the tradition?
The beauty of it is, cocktails that evoke the changing of the seasons don't have to be entirely new drinks. They can follow the same basic template classics cocktails do, just with seasonal substitutions. Here are a few suggestions.
The best place to start is swapping out the sweetener in a drink, it's the simplest and most effective way alter a cocktail. Take for instance a whiskey sour which we know is generally two parts whiskey -- bourbon, rye, Tennessee, your choice -- one part simple syrup, and one part fresh lemon juice depending on taste. Instead of simple syrup make it with maple syrup and bam(!), the autumn whiskey sour.
Los Angeles


by

Lisa Dinsmore





My husband and I are lovers of the grape, so we rarely indulge in hard alcohol, especially since it's usually more costly and the bars in Los Angeles don't exactly cater to our age range. It's...

Read more...

Italy


by

Steve Zaillian





The first time I ate at Coco Lezzone in Florence, it was at the invitation of film producer Dino De Laurentiis, who knows a thing or two about Italian cooking:

(1) He created the gourmet...

Read more...

Mid-West


by

Scott R. Kline





Hemmer Brothers Burgers in Sioux Falls, South Dakota is easy to drive by as it is placed inside an office building on bustling S. Phillips Avenue. But make sure you find it. They make a nice...

Read more...

Utah


by

David Latt





Visiting Dinosaur National Park from Salt Lake City can certainly be done in a long day trip, but if you have more time, base your stay in Vernal with half a dozen comfortable, affordable motels,...

Read more...