Pear-Apple Pie with Crunchy Streusel Topping
by Cathy Pollak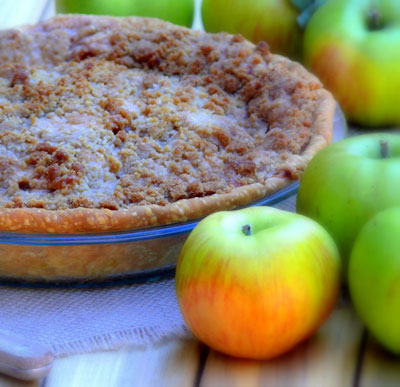 It has really felt like Fall the past week or two, which has really had me in the mood for all things apple and pumpkin. However, today, the first day of back to school, we will be pushing 90 degrees here in the Willamette Valley.

The heat will be good for the grapes as we head into harvest over the next month. The jeans and sweaters are ready to go, but will not make an appearance yet. In the Pacific Northwest, the weather changes in an instant so you have to be ready....luckily we are.
Our close friends from Northern California visited a couple of weeks ago, it had been a few years since we had seen them. They brought us these beautiful apples and pears used in this pie, harvested from their family farm in Central Oregon. Aren't they gorgeous?

I wanted a crunchy-sweet topping on this pie, I can't tell you how perfect it was. The pears and apples play together perfectly, creating the perfect textural balance.
You can use either your favorite crust recipe or a store-bought version, do whatever you have time for. My go to crust recipe works every time. You should try it.

Enjoy Fall...we can't wait for the leaves to start turning colors.
Pear-Apple Pie with Crunchy Streusel Topping
Recipe Created by Noble Pig | Serves: 12 slices
INGREDIENTS
Pie Filling:
1/2 cup all-purpose flour 1/2 cup granulated sugar 1 teaspoon ground cinnamon 1/2 teaspoon salt
3 Tablespoons fresh lemon juice 4 medium Granny Smith apples, peeled, cored and cut lengthwise into 1/2" thick wedges
3 medium firm pears (Bartlett or Anjou), peeled, cored and cut lengthwise into 1/2" thick wedges
Pie Curst use your favorite crust recipe or one package refrigerated pie dough
Cooking spray
Streusel:
1/2 cup all-purpose flour
1/2 cup packed brown sugar
6 Tablespoons chilled butter, cut into small pieces
Directions
Preheat oven to 375°F.
For the pie filling, combine flour, sugar, cinnamon and salt in a large bowl. Add lemon juice, apples and pears to the flour mixture. Toss gently to coat.
Roll dough into an 11" circle and fit dough to fit into a 9" pie plate (NOT 9.5" or deep dish) coated with cooking spray. Fold edges under and flute. Arrange pear-apple mixture in an even layer in prepared crust.
For the topping, combine flour and brown sugar in a medium bowl. Add cold butter and cut in with a pastry blender or 2 knives until mixture resembles coarse meal. Sprinkle evenly over pear-apple mixture. Bake for 1 hour or until lightly brown. Topping will be crunchy. Let cool for an hour before serving.
Cathy runs her own vineyard and winery in the Willamette Valley of Oregon. She is a food writer forDavis Life Magazine and blogs daily about wine, food and everydayliving. She lives with her husbandand two sons. You can visit her at noblepig.com.
Boston


by

Andrea Pyenson





I get more excited about a meal at O Ya, Boston's spectacular little Japanese restaurant, than just about any restaurant I have ever visited – which is rare for me, because as much as I love...

Read more...

Los Angeles


by

Anna Harari





My mother used to tell me she would drive to Malibu several times a week. She wouldn't stop there, just drive there and back. To relax…to write in her head...to figure things out. She doesn't...

Read more...

Texas


by

David Latt





Buffalo Gap is only a few miles south-west of Abilene. The small town (population 463) has a fascinating Historic Village, a must for any western history buffs.

The jewel of Buffalo Gap is Perini...

Read more...

Los Angeles


by

Laraine Newman





I recently joined Facebook and that is another story for another time, but its relevant to what I'm telling you because I've never made a friend this way until recently.


I was reading my...

Read more...