One for the Table's Apple Extravaganza
by The Editors
It's apple season (and the upcoming holidays) and hopefully more brisk weather have put us in the mood
for apples, any variety, whole in a lunchbox or in any of the lovely versions from our contributors' kitchens!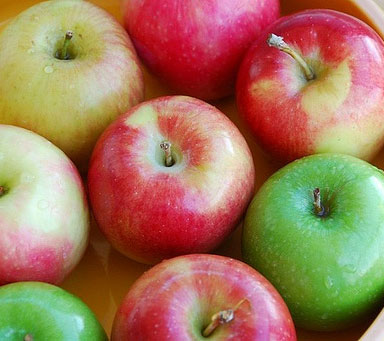 Apple-Lime-Mint Spritzer
Epic Apple Pie-Buttermilk Shake
Spiced Mulled Cider
Toffee Apple Martini
Beet and Apple Salad with Honey Dressing and Pomegranate Seeds
Brussels Sprout Slaw with Apples and Walnuts
Endive, Apple and Pecan Winter Salad
Autumn Apple and Potato Salad
Homemade Apple Sauce
Acorn Squash Stuffed with Spiced Cranberry Apple Chutney
Baked Butternut Squash with Apples & Cranberries
Pomegranate Glazed Baked Squash and Apples
Apple and Walnut Cornbread Stuffing
Sausage, Dried Cranberry and Apple Stuffing
Sweet Potato Gratin with Apples, Rosemary, Sage and Gruyere
Pork Cutlets with Sweet and Sour Apples
Roast Pork Tenderloin with Apples and Fennel
Cinnamon French Toast with POM Apple Compote | German Apple Pancake | Spiced Apple Waffles | Apple-Maple Walnut Breakfast Quinoa | Mimi's Apple Butter | Old-Fashioned Apple Streusel Muffins
Fall Harvest Cinnamon Apple Cake | Teddie's 1973 Apple Cake | Apple Crisp | Grandma Ople's Apple Pie
Cranberry Apple Cobblers | Easy Apple Phyllo Crisp | Louisa May Alcott's Apple Slump
Sweet and Salty Caramel Apples | Apple-Pumpkin Delight
Deep Dish Apple Pie | Green Apple Gallette | Pomegranate Apple Pie
Northern California


by

Michael Tucker





I was invited – along with six other authors – to talk about my latest book, "Family Meals" at the annual Author's Luncheon in Sacramento. It benefits the National Kidney Foundation and it's a...

Read more...

Boston


by

Kitty Kaufman





It's inauguration Monday. Neither bison nor lobster's on our Cambridge menu but we're celebrating. The first place is "not doing lunch today," so around the corner we go to the second where I'm...

Read more...

Los Angeles


by

David Latt





Living in Southern California, we enjoy rich ethnic diversity. Those of us who explore culture through cuisine are very happy about that. Located in West Los Angeles, Yabu, which has a devoted...

Read more...

Paris


by

Brenda Athanus





When was the last time you ate something that made time stop and took you back to your childhood? Berthillon in Paris is a dreamy ice cream shop on the Isle St. Louis that will do just...

Read more...