One for the Table's Apple Extravaganza
by The Editors
It's apple season (and the upcoming holidays) and hopefully more brisk weather have put us in the mood
for apples, any variety, whole in a lunchbox or in any of the lovely versions from our contributors' kitchens!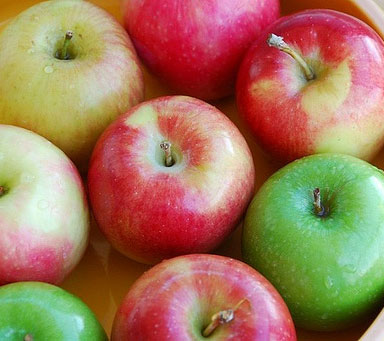 Apple-Lime-Mint Spritzer
Epic Apple Pie-Buttermilk Shake
Spiced Mulled Cider
Toffee Apple Martini
Beet and Apple Salad with Honey Dressing and Pomegranate Seeds
Brussels Sprout Slaw with Apples and Walnuts
Endive, Apple and Pecan Winter Salad
Autumn Apple and Potato Salad
Homemade Apple Sauce
Acorn Squash Stuffed with Spiced Cranberry Apple Chutney
Baked Butternut Squash with Apples & Cranberries
Pomegranate Glazed Baked Squash and Apples
Apple and Walnut Cornbread Stuffing
Sausage, Dried Cranberry and Apple Stuffing
Sweet Potato Gratin with Apples, Rosemary, Sage and Gruyere
Pork Cutlets with Sweet and Sour Apples
Roast Pork Tenderloin with Apples and Fennel
Cinnamon French Toast with POM Apple Compote | German Apple Pancake | Spiced Apple Waffles | Apple-Maple Walnut Breakfast Quinoa | Mimi's Apple Butter | Old-Fashioned Apple Streusel Muffins
Fall Harvest Cinnamon Apple Cake | Teddie's 1973 Apple Cake | Apple Crisp | Grandma Ople's Apple Pie
Cranberry Apple Cobblers | Easy Apple Phyllo Crisp | Louisa May Alcott's Apple Slump
Sweet and Salty Caramel Apples | Apple-Pumpkin Delight
Deep Dish Apple Pie | Green Apple Gallette | Pomegranate Apple Pie
New York


by

Nancy Ellison





How I love New York restaurants! I love my old standbys. I love the familiar friendly faces and food that I know exactly how it will taste. But, I also love going somewhere unexpected and...

Read more...

Los Angeles


by

Lisa Dinsmore





Everybody has them. Those neighborhood joints you walk/drive by a million times but never go into. For no good reason. The place looks nice enough and clearly has customers, but you always just...

Read more...

Los Angeles


by

Lisa Dinsmore





Though I've lived in Los Angeles for two decades, I still don't consider myself an Angeleno. Mostly because we rarely do anything that's considered interesting or hip in this vast and...

Read more...

Los Angeles


by

Laraine Newman





During the Great Depression, Hollywood did its part by providing people with the ultimate escape. It didn't try to provide its audience with everyday situations that just reinforced their misery....

Read more...