Lentil Bolognese
by Susan Salzman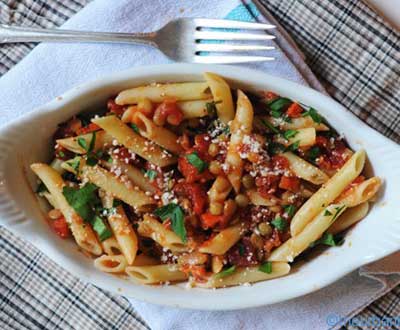 Fall has finally arrived in sunny Los Angeles and it's that slight chill in the air that makes me yearn for warm soups, one pot stews, and hearty pasta dishes. One night a week pasta is on the menu and it was this dish that my eldest son chose for his week night pick. All three of my boys are "required" to pick a meal each week and it is their job to help me prep and cook the entire thing(those that don't cook are on clean up duty). Eli, being 15, is pretty darn good with the knife and watching him dice the vegetables was a proud moment.
What I love most about this dish is that it has all the elements of a traditional bolognese without the addition of any form of meat. The lentils become the heart of the dish, coupled with spinach for your greens, and Parmesan for your milk, it's one of those one pot dishes that's covered all of our four basic food groups. Served with a crusty baguette, a glass of wine (for the adults) and a little something special for dessert, no one walks away from the table hungry or complaining.
Lentil Bolognese
Yield: 1 pound of pasta
Ingredients:
2 tablespoons extra-virgin olive oil
1/2 small onion, chopped
1 small carrot, chopped
1 stalk celery, chopped
3 garlic cloves, minced
2 tablespoons fresh tomato marinara, preferably homemade or a good, jarred sauce (
Lidia's
is pretty darn good)
1 (28 oz.) can whole peeled plum tomatoes, drained and roughly chopped (reserve the juice)
2 cups cooked lentils
1 cup fresh, chopped spinach
fresh basil, chopped
1 teaspoon red wine vinegar
1 teaspoon kosher salt
1/2 teaspoon freshly ground black pepper
1 pound penne brown rice pasta
grated Parmesan
Instructions:
Bring a large pot of water to a boil. once boiling add salt and the pasta. boil according to package directions. reserve 2 cups of cooking liquid. In a large sauepan over medium heat, warm the olive oil. Add the onion, carrot, and celery, and slowly cook unitl veggies are soft and a bit charred, about 20 minutes. Add garlic and saute for 1 minute. Sdd the marinara and stir to combine. turn up heat and cook until the mixture dries out. Add the reserved juice and deglaze the pan, reducing the liquid by half. Stir in the tomatoes, lentils, and 1 cup of stock or water. Bring to a boil and add salt and pepper. cook unitl it thickens and warms through.
Right before serving add the chopped spinach and stir to combine. Once pasta is ready, drain, reserving some of the cooking liquid – just in case. Serve the lentils over the pasta. sprinkle with Parmesan and either chopped fresh basil or parsley.
* there is always enough leftovers for lunch the next day!
Susan Salzman writes The Urban Baker blog to explore her dedication to good food in the hope of adding beauty to the lives of her family and friends.
Maine


by

Brenda Athanus





The A-1 diner at 3 Bridge Street in Gardiner, Maine is an old Worcester Streamliner diner car brought to its present location by truck in 1946 and installed on long Erector-like legs to bring it...

Read more...

Los Angeles


by

Anna Harari





Three weeks into all night shoots in Chatsworth on a low-budget indie movie with the same caterer twice a day serving us burgers for "breakfast" every single day (not even I can eat a burger...

Read more...

New York


by

Maia Harari





We'd finally made it all the way to Park Slope, it was less than warm, and I'm pretty sure I had mascara on my forehead from frantically trying to fix my make-up on the subway. You can imagine...

Read more...

Los Angeles


by

Sara Mohazzebi





Two years ago, I made a decision that forever changed my dining experience. I stopped being friends with anyone who doesn't like to eat. Living in Los Angeles, the city of beautiful people, this...

Read more...