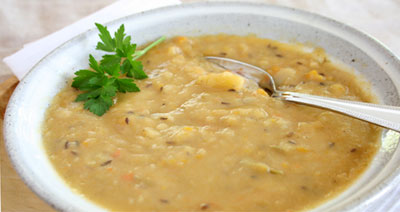 It can be a challenge cooking for two. When I made a big batch of Baked Garden Vegetable Stack the other day, I had a lot of tender vegetables left over. I turned them into creamy soup in 30 minutes.
The thin slices of potatoes and tender ribbons of cabbage seemed to demand caraway, that distinctly flavored seed typically found in rye bread. I used to love ladling my mom's sauerkraut dotted with caraway seeds over creamy chunks of boiled potatoes.
I started the soup by sauteing chopped onions and caraway seeds in hot oil. I tried a bit of the Butter Olive Oil I bought at Oh! Olive, a cute little shop in the Lincoln Park neighborhood of Chicago. The oil is organic with natural butter flavor, but is dairy-free and contains no animal products. I've discovered it's perfect for popping corn, or drizzling over a bowl of hot popped corn. Anyway, when the onions began to turn golden brown, I dumped in all my leftover vegetables (I had quite a bit — only two of us ate a meal from that big pan of veggies), poured in a few cups of vegetable broth and let it all simmer together for about 20 minutes.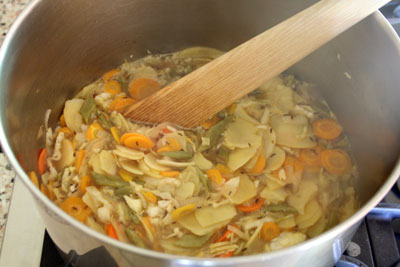 The potato slices were falling apart at that point and the green beans and carrots were very tender. I used my immersion blender to puree the soup right in the pot. Of course you could use your blender or food processor for the job. I wanted to have control over how chunky the final product would be.
And then, I just stirred in about a cup of milk and seasoned to taste. A sprinkle of minced fresh parsley over the top gave it the final touch. The soup was so satisfying. The dark caraway seeds softened during the saute and simmer and added that German-style flavor I remember from years of eating the sauerkraut and dumplings my mom used to make whenever she wanted to make my dad's day.
Either use up some vegetables you've already cooked or follow the recipe below.
I plan to bake another big batch of Baked Garden Vegetable Stack, just so I can have more of those vegetables to turn into soup.
Creamy Caraway Vegetable Soup
First, cook the vegetables. Serve some up as part of a meal, then use the rest for soup. Here's how to bake the vegetables:
Olive oil, for preparing pans
Yukon Gold potatoes, about 2 to 2½ pounds, peeled
Carrots, about 1 pound, peeled
Onion, 1 medium, sliced thin
Green Beans, 5 to 6 ounces, topped and tailed (trimmed), cut diagonally into 1-inch pieces
Cabbage, about 4 ounces, sliced thin
Preheat oven to 400°F.
Prepare 2 shallow baking pans or baking dishes that are the same size. Two jelly roll pans (11- x 15-inch) if you are feeding a family or 2 to 4 gratin dishes if you are cooking for one or two. Lightly coat the inside of each baking pan or dish with olive oil. Set aside.
Use a sharp knife or a mandolin to slice Yukon Gold potatoes and carrots 1/8-inch thick, keeping them in separate piles.
Salt and pepper the inside bottom of one pan. Arrange about half of the Yukon Gold potato slices, shingle style, in the prepared pan, covering the bottom completely. Make another layer with all of the carrots, arranging them the same way. Sprinkle the onion slices, green beans and cabbage over the potatoes. End the stack with a layer of the remaining Yukon Golds, arranging them shingle style. Push the mixture down with your hands to pack it in to the pan tightly.
Brush olive oil over the top layer and sprinkle with salt and pepper.
Set the other prepared pan upside down over the pan of vegetables. Wrap the pans up tight with heavy-duty aluminum foil to hold them securely together.
Bake in 400-degree preheated oven for 30 minutes. Carefully flip the pans over (be sure to use oven mitts) and bake for another 30 minutes.
Remove from oven. Allow the baked stack to rest for 5 minutes, then very carefully remove aluminum foil.
Lift off the top baking pan. Lay a large cutting board over the top of the baked stack and flip the stack over onto the cutting board. Carefully remove the baking pan. Slice the hot stack into squares or rectangles and serve. Refrigerate leftovers to save for soup.
2 tablespoons olive oil
1 cup chopped onions
2 teaspoons caraway seeds
3 (approximately) cups vegetable broth
1 cup dairy or non-dairy milk
Salt and pepper, to taste
Minced fresh parsley, for serving
In a large soup pot, heat the oil. Add the chopped onion and caraway seeds. Saute until onions just begin to turn golden brown. Add all of the leftover vegetables to the pot. Add enough broth to just cover the vegetables. Bring to a boil. Turn down heat, cover pot and simmer for about 20 minutes, or until potatoes are falling apart and cabbage and green beans are tender.
Add milk.
Puree to desired consistency. Season to taste with salt and pepper. Sprinkle some fresh parsley on each serving. Makes about 6 servings, depending on how many vegetables you started with.
Sue Doeden is a popular cooking instructor, food writer and integrative nutrition health coach. She is the host of Good Food, Good Life 365 on Lakeland Public Television. Her own hives full of hardworking bees and her love of honey led to the creation of her recently published cookbook, Homemade with Honey.