Got Soft Apples? Make Apple-Maple Walnut Breakfast Quinoa
by Susan Russo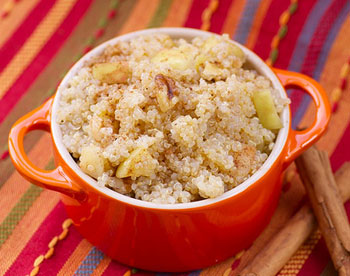 Is there anything more disappointing in October than biting into what you think will be a crisp, snappy apple only to have your teeth sink into mushy flesh? What do you do? Continue to eat it not to be wasteful, or toss it aside for something else?

Neither. Don't eat something you don't enjoy. You'll only be unsatisfied and crave something more. If you can, don't toss it either. Use it in something where the texture of the apple isn't critical, like applesauce. Or add it diced and cooked to oatmeal, quinoa, or barley for a delicious hot breakfast.

This Apple-Maple Walnut Breakfast Quinoa is a protein-rich, filling breakfast alternative to oatmeal. Plus, when you bake the apples on the stovetop, the scent of freshly baked apple pie will float in the air. How can a day not be good when you start it off with warm, soothing, spiced apples?

Seeing as I bought six apples from the same farmer, I've likely got five more softies in my fridge. I don't feel like having quinoa for breakfast tomorrow, so I'll be saying hello to homemade applesauce later today.

Apple-Maple Walnut Breakfast Quinoa
Makes 2 servings

1/2 cup dry quinoa
1 cup water
2 teaspoons butter
1 medium apple of your choice, diced with skins on
1- 1 1/2 tablespoons chopped walnuts
1/8 teaspoon apple pie spice
a pinch of salt
1 tablespoon pure maple syrup

1. In a small, heavy bottomed sauce pan, bring water and quinoa to a boil for 2 minutes. Lower to a simmer and cover for about 15 minutes, or until the quinoa has absorbed the water, puffs up, and turns translucent. If the water has evaporated before the quinoa is cooked, just add a bit more water. Quinoa should maintain a slight crunch when cooked.

2. In a small skillet over medium heat, melt butter. Add apples and cook 2 minutes, or until softened and lightly browned. Add walnuts, apple pie spice, and salt. Cook 1 minute more. Add to quinoa and stir.

3. Divide quinoa into two bowls, and drizzle with maple syrup. Serve hot.
Susan Russo is a free lance food writer in San Diego, California. She publishes stories, recipes, and photos on her cooking blog, <Food Blogga and is a regular contributor to NPR's <Kitchen Window. She is also the author of two upcoming books that will be published in the fall of 2010.
Los Angeles


by

David Latt





People who don't live in Southern California forget that in the winter, the temperatures can drop into the 40s and even the 30s at night. That's mild compared with the weather experienced by our...

Read more...

Boston


by

Kitty Kaufman





We've had lunches up and down Third Street and we like eating outside. Le bébé is now a contributing eater and she gives Za her approval for whatever she got her hands on which was everything on...

Read more...

Los Angeles


by

Lisa Dinsmore





Living in LA is easy. Eating out here is hard. Sure you can wear whatever you want, and reservations for most places aren't necessary, but the high prices for ho-hum food and lackluster service by...

Read more...

New York


by

Jeanne Kelley





I knew exactly where I wanted to go. I wanted to go to Blue Hill in Greenwich Village, and no, not because the Obama's went there on their "NYC date night" (although how cool is that?). I...

Read more...