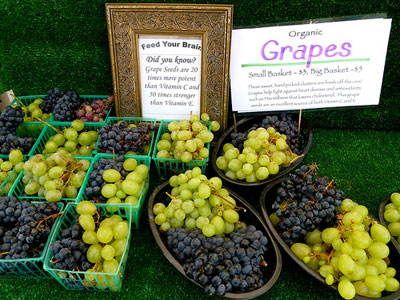 Now that we're headin into Fall, it's now time for full-fledged autumn salads.You know, the kind with thick slabs of roasted squash, wedges of spicy persimmons, and robust dressings made with maple syrup and heady herbs such as rosemary and sage.

While most fall salads include apples, pears, and fresh figs, not many include of one autumn's most popular fruits: grapes. Perhaps that's because like bananas, grapes are available in our supermarkets year-round and don't seem to have a specific season. Well, they do. Most grapes in the US are grown in California and are harvested between August and December. They're also available at San Diego farmers' markets right now.

I wish I could have you taste some of our local grapes. They're like nothing you've ever tasted from the supermarket. That's because no matter the variety – Champagne, Thompson, Concord, Flame – the grapes aren't picked until fully vine-ripened, which makes them dizzyingly plump, juicy, and flavorful. When you bite into some varieties, they release bursts of juice so intense, you'd think you're drinking wine.
Even if you can't get locally grown grapes, buy yourself the best ones you can find, and toss them into this Mesclun, Chicken, and Grape Autumn Salad. Sweet or tart grapes will get along deliciously with crisp pan-seared chicken, crunchy red bell peppers, and juicy heirloom tomatoes.

So next time you're at the market, reacquaint yourself with grapes. This long-time friend just might surprise you.

Mesclun, Chicken, and Grape Autumn Salad
Makes 4 servings

Salad: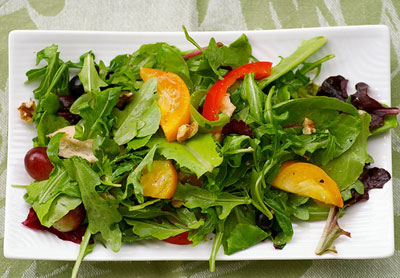 1 1/2 tablespoons olive oil
1- 1 1/4 pounds boneless, skinless chicken breast, cut into strips
8-10 cups mesclun, preferably spicy
1 yellow tomato, cut into wedges
1 red bell pepper, cut into strips
1 cup grapes of your choice

Vinaigrette:
1 1/2 tablespoons olive oil
6 tablespoons red wine vinegar
1/2 teaspoon salt
1/2 teaspoon freshly ground black pepper

2 tablespoons chopped, lightly toasted pecans, pine nuts, or walnuts

1. In a large skillet over medium-high heat, warm 1 1/2 tablespoons olive oil. Add chicken; cook for 8-10 minutes, turning several times, until golden and cooked through.

2. Place mesclun, tomato, pepper, and grapes in a large bowl.

3. Whisk vinaigrette ingredients in a small bowl.

4. Add chicken to salad and toss. Pour vinaigrette over salad, and toss until well coated. Sprinkle with nuts. Divide evenly among four plates.
Susan Russo is a free lance food writer in San Diego, California. She publishes stories, recipes, and photos on her cooking blog, <Food Blogga and is a regular contributor to NPR's <Kitchen Window. She is also the author of two upcoming books that will be published in the fall of 2010.