Fall in Maine
by Brenda Athanus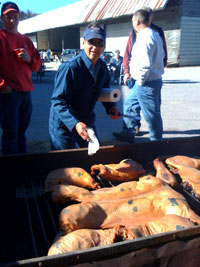 One of the ways fall is celebrated in Maine is with an annual pig roast that has been going on for the last 25 years thrown by four generations of the Hammond family. Once you're invited you always have an invitation. The patriarch Skip is in his mid-eighties and his wife is much younger by two years. They were married in the next town but got their blood test by a local doctor in Belgrade, who when he took blood from Skip's wife couldn't get it to fill the vial so he said to Skip give me some of your blood to fill the vial. The doctor then pronounced them husband and wife. They have been married for 60 years so far.
The pig roast started as a prelude to hunting season when a caterer would drive all night from South Carolina with six 80-pound pigs and masses of ground corn for the mountain of hush puppies. People brought all their best desserts and the table groaned under the weight. Over the years more tables have been set up and there is everything imaginable from bean hole beans to salads and deviled eggs of every know variation. The past 10 years clams and lobstershave also been cooked over a roaring oak wood fire pit. There are many people having their first and only lobster of the year and everyone wears a big contented smile of appreciation.
The day begins at around 6 am, the coals have to be started to give even heat to the pit for cooking the pig and the logs have to be lit for the wood fired lobster pits. The coolers of Moxie and other sodas are rolled out of the barn and the hard liquor table must be arranged. People start appearing around 8 to 8:30 to help, to see Sid the South Carolina caterer extrordinaire and help in any way that is needed. By 10 the first lobsters are finished steaming and put into jumbo coolers to keep them hot so everyone can help themselves to as many as they want.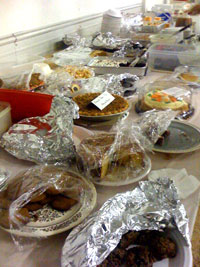 The bluegrass musicians roll in and set up and the music slowly starts, not too loud but good enough to capture your attention. More and more people arrive, carrying wicker pie safes, platters, plates and coolers. The kids, and there are many, play baseball outside and run and roll down the sand pit walls getting good and dirty and building an appetite. The adults visit with each other and tell there stories of the past year - some are good and interesting, some make you sad, like the passing of your neighbor. The tempo of life in a small town with less then 2500 people is very reassuring in our difficult times, the sharing and the caring is what this day is all about. And the best pig roast in the world to top it all off.
The dessert table is filled with an array of sweets that would make the angels cry. There are treasured family recipes for obscure cakes, whoopee pies in every variation imaginable and then there are the desserts that are bought from the grocery store for those working families that don't have the time to cook but would never think of coming empty handed. After the pig is served every kid in the house gets a pumpkin to carve no matter how young and they get to take it home. Seeds are all over the saw dust floor as their parents are dancing or swaying to the music. Everyone's feet are tapping and moving as a few sneak one more tiny piece of pie. It is yet again a lovely day in Maine with the good people I call my neighbors. The air is slightly crisp, the trees are bright orange and red and for that I am very thankful...
Brenda Athanus runs a small gourmet food shop in Belgrade Lakes, Maine with her sister Tanya called the Green Spot.
The Green Spot
This e-mail address is being protected from spambots. You need JavaScript enabled to view it
207.441.9327
New York


by

Diane Sokolow





My dad was a two job guy. We lived in a representative, working class neighborhood in Brooklyn, which was to me, the paradise of the world. Representative I learned years later meant not just...

Read more...

Boston


by

Lisa Dinsmore





There are people who, when on vacation, go wherever the road takes them. I am not one of them. If I'm going somewhere new and only have a few days to explore a place, I'm going to find the best...

Read more...

Los Angeles


by

Laraine Newman





I slept with Hannah last night and it was like being 13 all over again. Although I think our combined ages when we do that amounts to about 10. "Quit tickling me!" "I'm not Mom." "Are too!!"...

Read more...

New York


by

Michael Tucker





Call out the riot squad! Barricade the streets! Lock up your daughters! The Three Fat Unemployed Actors' Lunch Club is on the loose again — this time in the far reaches of Queens at the wonderful...

Read more...