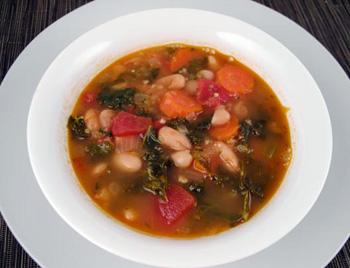 I love making big batches of soup on the weekend. I store some of it in the refrigerator, and the rest I freeze in quart containers for when I need a quick lunch or dinner. I also prefer using homemade chicken stock, which I also keep in the freezer.
Whenever I have a rotisserie chicken from the market, I throw whatever is left in a pot with an onion, celery, some peppercorns and cover with 3 or 4 quarts of water and boil for an hour or two to create a rich and flavorful stock.
This traditional Italian soup is one of my favorites – it uses mostly basic ingredients, but is so delicious. The flavors intensify as it sits, so it's even better the next day.

Easy Tuscan White Bean Soup – La Ribollita
1 tablespoon extra virgin olive oil, plus extra for drizzling
6 ounces pancetta (or bacon), cut into 1/4-inch pieces
1 large onion, chopped medium
1 leek, cleaned and chopped
2 medium celery ribs, cut into 1/2-inch pieces
3 medium carrots, peeled and cut into 1/2-inch pieces
8 medium garlic cloves, minced or pressed through garlic press
2 tablespoons tomato paste
¼ - ½ teaspoon red pepper flakes
4 cups low-sodium chicken broth (preferably homemade)
2 cups water
4 (15-ounce) cans cannellini beans, drained and rinsed well
2 medium bay leaves
1 (15-ounce) can diced tomatoes, drained and rinsed
1 medium bunch kale or collard greens (about 1 pound), thick stems
trimmed, leaves chopped into 1-inch pieces (about 8 cups loosely packed)
1 (2-ounce) piece Parmigiano-Reggiano rind
1 sprig fresh rosemary
1 sprig fresh thyme
2 tablespoons fresh lemon juice
1. Heat oil and pancetta in large Dutch oven over medium heat. Cook pancetta, stirring occasionally, until lightly browned and fat has rendered, 6 to 10 minutes. Add onion, leek, celery, and carrots. Cook vegetables, stirring occasionally, until softened and lightly browned, 10 to 16 minutes. Stir in garlic, tomato paste, and red pepper flakes and cook until fragrant, about 1 minute. Stir in broth, water, beans, bay leaves, diced tomatoes, Parmigiano-Reggiano rind, and greens. Increase heat to high and bring to a gentle boil. Reduce heat and simmer until vegetables and greens are fully tender, 20 to 25 minutes.
2. Remove pot from stove and submerge rosemary and thyme sprig in stew. Cover and let stand 15 minutes. Discard the bay leaves, Parmigiano-Reggiano rind, thyme and rosemary sprig; Stir in lemon juice and season with salt and pepper to taste. If desired, use back of spoon to press some beans against side of pot to thicken stew. Serve lightly drizzled with olive oil.
James Moore has been a cooking enthusiast since childhood and started blogging as a way to share favorite recipes with friends and family. His site, Cook Like James has grown to include restaurants, cookbooks, wines, and favorite places.