Berger Queen's Bang for the Buck: Artichoke Hold
by Ilene Amy Berg
Thank you, California, this has been an incredible year for artichokes. I had the biggest, meatiest, tastiest one of my life last spring, and the new autumn crop is beautiful too. But the range in pricing is stunning. All pictures were taken in Los Angeles during the weekend of September 28: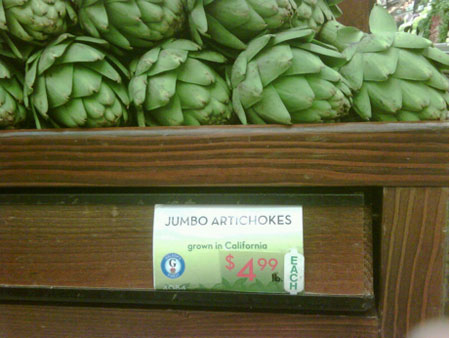 $4.99 each at Gelson's. No way.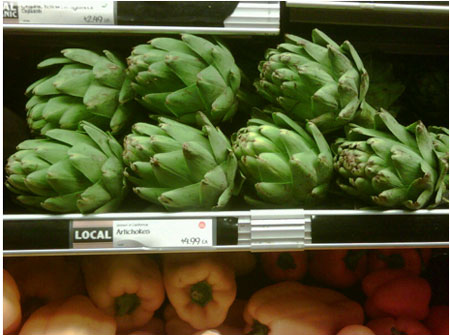 $4.99 each at Whole Foods. Not happening.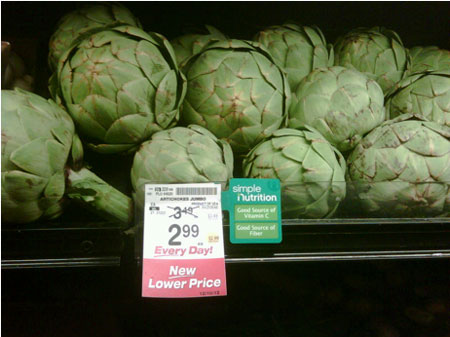 $2.99 each at Pavilions. Starting to breathe.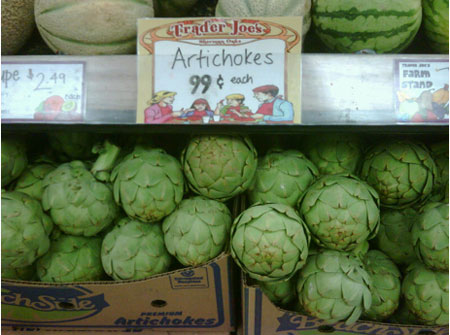 99¢ each at Trader Joe's. Now we're talking.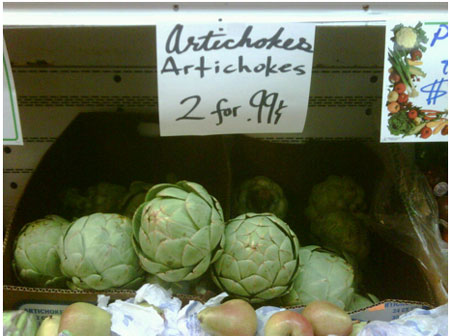 And the winner is: a beautiful, mind-blowing 50¢ each at Farm Boy market.
Remember: sometimes you have to buy it where you see it, when you see it – but at other times it pays to shop around!
Ilene Amy Berg (aka The Berger Queen) is a Los Angeles-based television producer, antiques hunter, New York and London lover, and a spirited food adventuress.
Los Angeles


by

Carolan Nathan





- A Pleasant Surprise

Having almost given up on the Italian cucina here in Los Angeles, I was very pleased to enjoy the offerings of this ristorante. It was a whim that brought me there and also...

Read more...

San Francisco


by

Scott R. Kline





Spork in San Francisco is my new favorite restaurant. Pat and I went there for dinner after a lovely day in the Mission, checking out all the vintage stores and eating Dymano Donuts. Spork is a...

Read more...

Northern California


by

Scott R. Kline





The Mountain Room restaurant at Yosemite Lodge in Yosemite National Park in California is a great place to have a burger after a hike. If you have never visited Yosemite, there are plenty of...

Read more...

New York


by

Alex Rader





Nestled under a nail salon, down just a few stairs, there lives an outpost of delicate seafood, with a touch of unexpected spice.

The thing most people will have heard of from Chef Andres...

Read more...