Apple Kuchen In Disguise
by Sue Doeden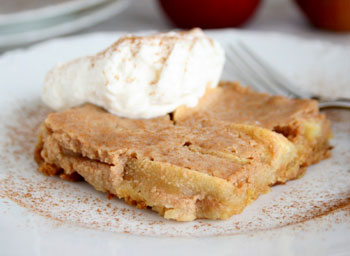 German grandmothers mixing up sweet yeast dough to form coffee cakes filled with fresh fruit of the season and rich, creamy custard made with real cream have been passing along the kuchen tradition for generations.
If authentic kuchen, which is a German word for "cake," has been a common thread weaving through your family for decades, you probably won't appreciate this recipe. The only kuchen my family eats comes to our table as a gift from an expert peach kuchen-maker who works with my husband.
The simplicity of this Quick Apple Kuchen recipe caught my attention as I browsed through an old cookbook I inherited from my mom's extensive library. The book is so old, it refers to margarine as oleo. Up until 1952, U.S. law required margarine producers to label their product "oleomargarine." But, the book is not so old that bakers couldn't find cake mix in their grocery store.
Yes. Cake mix. Kuchen made of cake mix will be considered sacrilegious to many. Since I don't have a recipe that's been handed down through the ages, I thought it was worth a try.
It took minutes to combine dry yellow cake mix with butter and flakes of coconut to form a crust. While the crust bakes alone, a rich mixture of sour cream, eggs, sugar and cinnamon gets mixed together. Poured over apple slices that have been arranged over a slightly baked crust, the lightly sweet and creamy mixture bakes to a pudding-like consistency.
My kuchen-clueless family devoured the German imposter. They especially loved the crust that became crunchy with a slight caramelized flavor. The filling of apples and custard is not too sweet with just enough cinnamon to remind you it's autumn.
If you don't know better, you'll love this German dessert in disguise. If you do know better, just give it a try. And call it Quick and Delicious Apple Dessert.
Quick Apple Kuchen
(Slightly adapted from a recipe in "Thou Preparest a Table," a compilation of recipes from Pekin United Methodist Youth Fellowship in Pekin, New York)
1 (18.25-ounce) yellow cake mix
1/2 cup butter
1/2 cup coconut
1 1/4 pounds apples, peeled and sliced, about 3 cups of slices
1 egg
1 cup sugar
1 teaspoon cinnamon
1 cup sour cream
Whipped cream, for serving
Preheat oven to 350°F. Lightly grease a 9- x 13-inch baking dish. Set aside.
Blend dry cake mix and butter together with pastry blender or knives, just as you would do for pie crust. Use clean fingers to work in coconut. Press the mixture into the prepared baking dish. Bake in preheated 350-degree oven for 10 minutes.
While crust is baking, beat egg, sugar and cinnamon together until well blended. Add sour cream and blend.
Remove crust from oven. Arrange apple slices in a single layer over the top, covering the crust. Pour sour cream mixture over the apples. Return to oven and bake for about 30 minutes, until crust is golden and apples are fork-tender. Remove kuchen from oven and allow to cool. Serve slightly warm, chilled, or at room temperature with whipped cream.
Makes 8 very generous servings for hardy kuchen-loving appetites or 12 lady-like servings appropriate for a luncheon dessert or 16 something-sweet-sized servings that would be appreciated at a brunch.
Sue Doeden is a food writer based in Bemidji, Minn. Her columns, recipes and photos appear weekly in select Forum Communications Co. newspapers. She also appears on Lakeland Public Television's Wednesday newscast at 10 p.m., and teaches cooking classes. Her recipes can be found online on her blog Sue Doeden's All about Food.
New York


by

Sara Mohazzebi





My father has a way of making everything unforgettable. He's loud, temperamental, incredibly passionate, and a romantic to the core. So it seemed completely natural to me when he took me to...

Read more...

Los Angeles


by

Maia Harari





I think there might be a reason most of the neutral or positive reviews of Olio Pizzeria focus mainly on breakfast. Their overhyped pizza crust tastes like english muffins. And, unfortunately,...

Read more...

Northern California


by

Amy Ephron





What if your favorite restaurant was in the same state you were in but it was 9 hours away???

We really couldn't take a vacation this summer but we did run off for a week-end to Mendocino (don't...

Read more...

Georgia


by

Amy Ephron





We were in Savannah last week-end and we went out for a drive on Sunday afternoon and out to lunch just across the bridge in Thunderbolt at a small wooden shack called Despositos.The wood...

Read more...