An Apple Dessert for Two
by Sue Doeden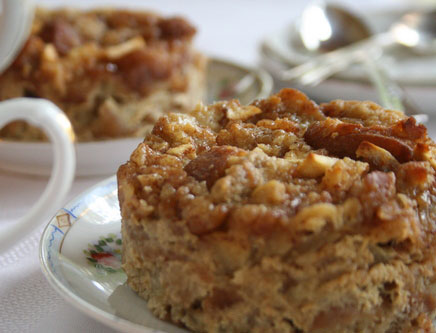 The applesauce doughnuts I made the other day didn't stick around in the kitchen very long. Off they went to the guys at the gas station, to the owner of the tea shop in town, along with one of her customers who happened to be in for a cup of tea, and a few to my friends at the food co-op.
Fourteen little doughnut balls remained on a plate on my kitchen counter. My two-year-old doughnut-ball-loving grandson lives hours away from me, so this time, I couldn't share with him.
I decided to surprise my bread-pudding-loving husband. I mixed up a liquid mixture, rich with egg and butter, sweet with white and brown sugars and spiced with cinnamon and nutmeg. Broken doughnut balls (there were only 12 little balls on the plate by this time. Apparently, there is a doughnut-ball-loving person right in my own house.) took a long bath in that liquid before I stirred in some chopped apples.
There was just enough to fill two ramekins. Breakfast in bed on a chilly autumn Saturday morning? Dessert by the fire after dinner? If you decide to serve this for dessert, it can be baking while you're eating dinner. If you decide to serve it for breakfast, it can be chilling while you're sleeping.
Fragrance of fall. Warm. Delicious. Comfort. Just for two.
Saucy Doughnut Ball and Apple Pudding for Two
12 applesauce doughnut balls, broken apart and dried overnight
1 large egg, lightly beaten
1 tablespoon unsalted butter, melted
2 tablespoons white sugar
1 tablespoon dark brown sugar
3/4 cup whole milk
1/4 cup farm-fresh cider
1/4 teaspoon vanilla extract
1/4 teaspoon cinnamon
Pinch of nutmeg, freshly grated
1/4 of a large apple, cored, peeled and chopped
Preheat the oven to 350°F. Butter two ramekins. Each ramekin should have a 12-ounce capacity.
Put the dry donut pieces into a mixing bowl.
In a 4-cup glass measure, combine the egg, butter, sugars, milk, cider, vanilla, cinnamon and nutmeg. Pour this liquid mixture over the broken doughnut balls, and let sit for 30 minutes.
Stir chopped apple pieces into the mixture.
Pour the mixture into the prepared ramekins and bake for 30 to 35 minutes, or until the custard has totally set. Serve warm or room temperature. When the puddings reach room temperature, they will slide right out of the ramekins.
Put a baking sheet or some aluminum foil on the rack below the baking bread puddings to catch any drips. Just in case.
If you plan to eat these for breakfast, you can bake them the day before and just reheat them. Or, fill the ramekins the night before and store them in the refrigerator. In the morning, pop them into a preheated oven. They'll take a few minutes longer to bake.
Sue Doeden is a food writer based in Bemidji, Minn. Her columns, recipes and photos appear weekly in select Forum Communications Co. newspapers. She also appears on Lakeland Public Television's Wednesday newscast at 10 p.m., and teaches cooking classes. Her recipes can be found online on her blog Sue Doeden's All about Food.
Boston


by

Andrea Pyenson





I get more excited about a meal at O Ya, Boston's spectacular little Japanese restaurant, than just about any restaurant I have ever visited – which is rare for me, because as much as I love...

Read more...

Texas


by

Haley Schultheis





One of my favorite places to satiate my sweet tooth is La Duni in Dallas. La Duni Latin American café and bakery has several locations. Not only is the atmosphere feminine and romantic, the...

Read more...

Los Angeles


by

Maia Harari





Headaches are the worst. And if you don't catch them right when they start, they're hard to cure. I've had one for four days. My mom told me to drink lemonade.

Lemonade?

I've taken naps, sat in...

Read more...

Boston


by

Kitty Kaufman





It's inauguration Monday. Neither bison nor lobster's on our Cambridge menu but we're celebrating. The first place is "not doing lunch today," so around the corner we go to the second where I'm...

Read more...