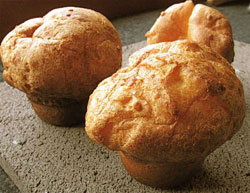 Thinking about Inauguration Day food festivities all of a sudden I realized that this can't be a beer and popcorn afternoon grazing session, or late night ice cream buffet.  No, Inauguration Day is a morning celebration.  We need to begin Tuesday morning with a bang, with a dish worthy of taking a day off to immerse ourselves in simple happiness.  The popover popped into my mind (yes, I did actually think that).   When was the last time you had a popover? 
I don't know any friends who make them regularly.  I admit to occasionally running into Neiman Marcus just to have a bite of eggy, chewy buttery goodness with a bit of butter beaten with jam.  It's that bit of jam that puts the popover into high gear.  Now's the time to take that jar of special friend made or artisanal farmers market jam or preserves and crack it open.  Lay out an assortment of jams, jellies and preserves, maybe some lemon wedges, powdered sugar and if you want to be decadent some fresh ricotta whipped with a bit of sugar till super smooth in the food processor.  Dust some cinnamon on top.  Yum, no….YUM.

Popovers can be scary to make, and sometimes the pop fizzles.  I've found that this King Arthur recipe with pictures and detailed explanation works really well.  Popovers are such a hopeful bread.

KING ARTHUR PERFECT POPOVERS
4 large eggs, at room temperature
1½ cups milk (skim, low-fat, or full-fat), at room temperature
1/2 teaspoon salt
1½ cups King Arthur Unbleached All-Purpose Flour
3 tablespoons melted butter
1) Preheat the oven to 450°F. Position a rack on a lower shelf. The top of the fully risen popovers should be about midway up the oven. What you don't want is for the tops of the popping popovers to be too close to the top of the oven, as they'll burn.
2) Use a standard 12-cup metal muffin tin, one whose cups are close to 2 1/2" wide x 1 1/2" deep. Grease the pan thoroughly, covering the area between the cups as well as the cups themselves. Make sure the oven is up to temperature before you begin to make the popover batter.
3) Use a wire whisk to beat together the eggs, milk, and salt. Whisk till the egg and milk are well combined, with no streaks of yolk showing.
4) Add the flour all at once, and beat with a wire whisk till frothy; there shouldn't be any large lumps in the batter, but smaller lumps are OK. OR, if you're using a stand mixer equipped with the whisk attachment, whisk for 20 seconds. Stop, scrape the sides of the bowl, and whisk for an additional 20 to 30 seconds at medium-high speed, till frothy.
5) Stir in the melted butter, combining quickly.
6) Pour the batter into the muffin cups, filing them about 2/3 to 3/4 full.
7) Make absolutely certain your oven is at 450°F. Place the pan on a lower shelf of the oven .
8) Bake the popovers for 20 minutes without opening the oven door. Reduce the heat to 350°F (again without opening the door), and bake for an additional 10 to 15 minutes, until they're a deep, golden brown.
9) If you plan on serving the popovers immediately, remove them from the oven, slip them out of the pan, and serve.
10) If you want the popovers to hold their shape longer without deflating and settling quite as much, bake them for an additional 5 minutes (for a total of 40 minutes) IF you can do so without them becoming too dark. This will make them a bit sturdier, and able to hold their "popped" shape a bit longer.
-- Also published at KCRW's Good Food blog
Evan Kleiman is chef owner of Angeli Caffe, co-author of the classic cookbooks Cucina Fresca, Pasta Fresca and Cucina Rustica and host of Good Food, a radio show which airs on KCRW 89.9fm in Southern California.