Hel's Kitchen: I Itz at Mugaritz
by Bruce Cormicle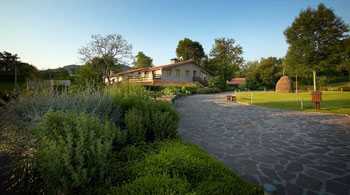 The 3 -star Michelin restaurant Mugaritz (rated 3rd in the Top Fifty Restaurants of the World) is high up in hills of Errenteria, Spain twenty minutes outside of San Sebastian.
It is surprisingly easy to get to if you are an expert in Himalayan climbs, hairpin turns, and fluent in the basque language called Euskara.
After you arrive at this culinary mecca, you remove your crampons, ice axe, and Formula One racing helmet, and are ushered into their gorgeous kitchen sanctum.
A sparkling cava (Copa Cava Opus Evolutium Ad Private) is given to you to sip. A discussion is then held between you and the various friendly alchemists who will be cooking your meal regarding the philosophical underpinnings of that evening's dishes.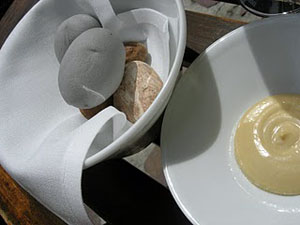 You are taken to your table. A glass of Ossian 2008 white wine is poured. A single small potato (called "Edible Stones" on the menu) that has been cooked in an edible clay shell sits on top of heated gravel.
You bite into it hoping your dental insurance has been squared away and realize that it is soft and what you always hoped a potato could be, what any food could be. You dip it into an aiolli sauce and realize that if you only went to Spain for this one potato it would have been enough, more than enough, maybe even too much.
Another dish is simply identified as: "Shhhhh... cat got your tongue". It is beef tongue that had been cooked twelve hours sous vide, then shredded with tweezers into extremely thin threads, deep fried, and then reassembled into a bird's nest.
There was a five kilo hake fish that had been caught and detained in local waters that afternoon. When it was unable to produce letters of transit it was forthwith delivered by waiting couriers to the restaurant where it ended up as incredible dish eleven: "Filet of hake and milky reduction of stewed cabbage sprouts with luscious citrus spread". Like Ugarte, it gave up its life for a great cause.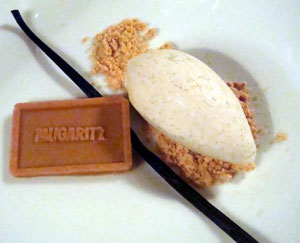 The dinner was three hours and covered seventeen dishes ("Artichoke and bone marrow ragout stuffed in a creamy kuzu bread (made to look like white hollowed out bone)", "Quail Armagnac", and "Iberian pork tails, crispy leaves, and toasted sweet millet oil" were some of the others).
It is no coincidence that Nicholai Hel – the fictional professional assassin/gourmand of Trevanian's "Shibumi" – repairs to the hills of the Basque Country to feast, practice Stage Four love-making, and live simply ("eloquent silence" it is called) – after killing, of course, some Munich terrorists with the edge of a credit card.
Well, although I, too, suffered death by AmEx when I received "la cuenta", I have never felt more thankful for the experience.
Murgaritz, Otazulueta Baserria, Aludura Aldea 20, 20100, Errenteria, Spain
Bruce Cormicle is an attorney, writer, and chef who works in Beverly Hills and recently started his own catering company called "You've Been Served".
Oregon


by

Lisa Dinsmore





When all of our friend's heard we were heading to Portland, they immediately began giving us advice about where we just HAD to eat. No matter how many times I reiterated the fact that this was a...

Read more...

Italy


by

Libby Segal





"You know, I once saw an American TV show where someone was eating a fried Oreo." This was the phrase that poured out my host in Torino's mouth as we discussed the difference of food in each...

Read more...

Los Angeles


by

Lisa Dinsmore






It's all my friend Jo's fault. She brought me to LudoBites 3.0 at Royal T in Culver City just over 2 years ago. I had never heard of Chef Ludo before and really wasn't that into food, but I was...

Read more...

Los Angeles


by

Jo Stougaard





My first taste of Chef Josiah Citrin's cooking was at the James Beard "Chefs and Champagne" event in May. Melisse served a Spring Veal with Anson Mills Polenta, Morel Essence and Red Wine Jus. I...

Read more...