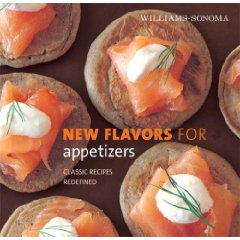 Would you like to know what I have in common with Cher? Other than the fact that I own a box of wigs, well not much really. But I do love her movies, which brings me to her 1990 film Mermaids. In the movie she played this wacky mom who only cooked appetizers for breakfast, lunch and dinner and I remember seeing it and thinking "Ok, now if I ever became an Armenian American celebrity with her own variety show and doll who wins Grammys and Golden Globes and Oscars with hit singles in the Top 10 for the past 40 years who sometimes plays a Lesbian from Texas, then damnit, I'd want to be Cher." But really, that's about as far as my Cherinterest goes.
No, really.
After Mermaids I kept thinking how fabulous a world of appetizers would really be. Perhaps I'm fickle, perhaps I become bored too easily, but a world of smaller bites and various nibbles would truly keep me happy. It'd be like tapas twentyfourseven and I challenge you to find a problem with that. See? Ya can't. Because there really is nothing wrong with small servings of flavorful foods meant to be shared with people. And if you need further convincing I'll give you my home address and you can see my cookbook collection.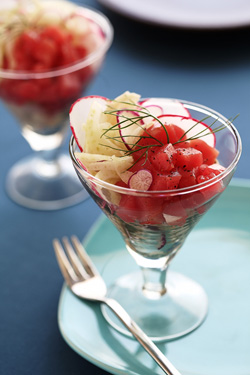 If there's a book on entertaining or appetizers chances are I have it. In the back of my mind I envision Cher's world of appetizers not only for the cocktail hour but for every moment in between––my collection certainly reflects that. So when my friend Amy told me she was working on a book for Williams-Sonoma (and after my nosey self found out the topic) I knew it'd be right up my alley. Her book titled Williams-Sonoma New Flavors for Appetizers: Classic Recipes Redefined
is an innovative twist on appetizers and focuses on fresh, seasonal ingredients as the key to each recipe.
The book is divided into seasons which I completely love and introduces global twists throughout the recipe collection. Amy's done an amazing job keeping the recipes quick and flavorful, unlike my appetizer books of the 1950s and 60s that require a small army to complete a party buffet. I'm loving her recipe for Lettuce Tacos with Grilled Sesame Beef, as the intersection of Latin and Asian cuisine plays a big part in my kitchen these days. And the recipe for Chickpea Dip with Toasted Cumin and Pomegranate is a nice twist on hummus. I haven't made it to the seafood recipes yet other than the tuna but I do plan on cooking from the Summer chapter this year. The Avocado, Toasted Corn and Chipotle Salsa recipe is calling my name. Or maybe Cher's name. Or both.
Tuna Crudo with Fennel and Radishes from New Flavors For Appetizers: Classic Recipes Redefined, Williams-Sonoma.
Matt says: I love tuna in any form — grilled, smoked, seared, raw in poke or carpaccio ––so this was the first recipe I made from the book. The fennel and radishes deliver that contrasting crunch. It's heaven.
1 lb sushi-grade ahi tuna, well chilled
1 large or 2 small bulbs of fennel
1 bunch (about eight) radishes
1/4 cup fresh lemon juice
1/2 cup peppery extra-virgin olive oil
sea salt and freshly ground pepper
Leave the tuna in the refrigerator until you are ready to cut it. If it is well chilled, it will be easier to work with.
If the fennel stalks are still attached, trim them and reserve for another use or discard. Reserve a few of the feather fronds for garnish, if desired. Remove and discard the outer layer of the fennel bulb if it is tough, or cut away any discolored areas. Halve the bulb lengthwise and trim the base of the core. Trim off the leafy tops and the root ends from the radishes. Using a mandoline or large sharp knife, cut the fennel bulb halves and then the radishes into paper-thin slices.
Using a long, sharp knife, and cutting with the grain, cut the tuna into 1/2-inch dice, removing any sinew.
Divide the fennel and radishes evenly among chilled bowls or plates. If desired, roughly chop some of the fennel fronds and add a few to each bowl. Arrange the tuna on top of the vegetables, again dividing evenly. In a small bowl, whisk together the lemon juice and oil until blended. Drizzle the lemon-oil mixture evenly over the tuna and vegetables and season lightly with salt and pepper. Serve right away. Makes 8 servings.
(Oops! Thanks to my dearest friend Dr. Dakessian who thought it'd be best if I clarified the fact that the recipe photo is from me and not the book. Thanks, Raf!)
-- Also published on MattBites.com