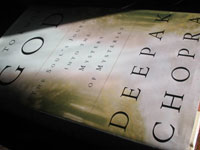 An article in the Washington Post On Faith section in response to their question: Is there a religious reason to vote for or against Obama or McCain?
There never will be, and never should be, a religious reason to pick one candidate over another. God hasn't personally voted in an American election, but he keeps voting by proxy. In an ideal world that would never happen. Supernatural beings aren't citizens. Omniscient deities don't make choices (since they already know every outcome in advance). To anyone who holds a serious regard for the Constitution, voting your faith should be a private matter, not a public one. It wouldn't make me happy to know that a Catholic friend voted for someone solely because he was a Catholic, or that a Jewish friend voted for someone solely because he took a hawkish stand pro Israel, but that's their right. No public discussion is required.

Yet we have to be realistic. God is going to vote by proxy this year. The real question is where his massive voting bloc is heading, now that the Republican Party has been so thoroughly discredited. Can we hope that religious voting will return to being a private matter? In the past, various noxious movements that were anti-Catholic and anti-Semitic made grabs for political leverage, only to sink back into the miasma. Is something like that about to happen now?
As we all know, part of the right-wing revolution in this country was the consolidation of the religious vote. That, in turn, depended on convincing churchgoers that they should vote their faith in the first place. The very notion of knowing who God backs in the race is laughable, but it became no laughing matter when the schism between red and blue states elevated splinter groups, including hard-line evangelicals, into the driver's seat. As swing voters, the religious right discovered new and ever more unlikely rationales for seizing power. The basic argument of "God is on our side" was dubious enough, but it was stretched to extreme lengths: God is against Roe v. Wade, God demands that our children pray in school, God condemns homosexuals to hell. It would have been more truthful simply to label themselves as the intolerance faction.
There are some positive trends in this regard, however:
-- For every fundamentalist and bigot who believes the smear that Obama is a Muslim, two or three new voters have registered to negate that vote.
-- Younger evangelicals have shifted away from hard-line social values, turning toward real-life issues like global warming.
-- The reactionary base of the Republican Party is widely seen as behind the times and may be replaced by a new group of policy makers.
-- President Bush's public declarations of faith-based decisions (e.g., God wants him to bring democracy to the Middle East, he doesn't need to consult his father on foreign policy because he consults a higher father) have been so alarming that previously apathetic citizens paid attention.
-- A constant parade of avowedly religious figures abusing their power (Attorney General John Ashcroft) or acting with ridiculous hypocrisy (Sen. Larry Craig, Rep. Mark Foley) has undermined the moral credibility of the religious right.
The general debacle falling on the heads of the right wing will do the most to keep God out of the voting booth. But that will be temporary. As long as we are a divided nation, splinter groups can't resist the temptation to turn into powerful voting blocs. There's an urgent need, as Obama recognizes, to heal the fracture lines. The electorate will be healthier if he can undo bitter partisanship, and God can go back to knowing everything but not pulling a lever in the voting booth.
Originally published on the Huffington Post