From The Nation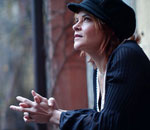 I'd like to formally submit myself to replace Sarah Palin on the GOP ticket. I feel confident that John McCain will see that the very attributes he desired in his VP choice can be met, and even exceeded in some areas, by me. For your consideration, my big, fat résumé:
FOREIGN POLICY
Here's where I really shine. Governor Palin got her first passport in 2007. I got my first passport in 1970, when the Governor was only 6 years old! Not only do I have a passport, I have actually been outside of the United States, dozens of times. I have had relationships and conversations with real foreigners, in their own countries, in restaurants, shops, flea markets, museums, nightclubs, spas, hotels, all modes of public transportation, and even in their own homes. My foreign policies are fair, inclusive and sensitive to cultural differences. I don't ask for English Breakfast tea when I'm in France. I never call foreign currency "funny money" (even though it does look funny.) I don't shout at people to help them better understand English and, finally, I act on God's will when in Paris by going to Chanel, and to all the great boutiques, which is just an extension of God's will...
I know Governor Palin has one distinct advantage in living so close to Russia, in that she can keep a close eye on nefarious activity across the Bering Strait, but I, too, live very close to a foreign country. Canada is less than 400 miles from my home in New York City, and you never know when it might become necessary to invade a sovereign nation that has not attacked us, as we learned the hard way. Not only that, I have a girlfriend in Austin, Texas, whom I'm going to ask to keep an eye on Mexico.