by Lt. Gen. Robert G. Gard Jr. (USA, Ret.)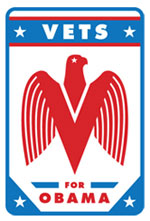 Some people have been surprised by General Colin Powell's endorsement of Barack Obama. How could Powell, who served in several Republican administrations, endorse a Democrat over John McCain, a storied war hero?
As a lifelong military man, I too will be casting my vote for Barack Obama on Election Day. I deeply respect John McCain's service to our country. I admire his bravery as a prisoner of war, described by a fellow prisoner as similar to that demonstrated by hundreds of other U.S. prisoners in North Vietnam.
The fields of foreign and national security policy, however, are John McCain's disqualifying weaknesses, in my view. McCain has demonstrated clearly that he is a dedicated ideologue when it comes to foreign policy, unwilling to consider opinions or even credible evidence contrary to his preconceived notions.
His temperament, marked not only by impatience but also by rude and sometimes hostile behavior, would discourage advisors from bringing to his attention views that might not be consistent with his preconceptions. A President with this combination of significant shortcomings would be a dangerous commander-in-chief, posing an unacceptable risk to the security of the nation.