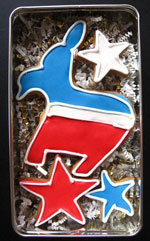 The 2008 Presidential Election is only 3 weeks away and we know everyone is in an emotional tizzy about the potential results. No matter what side you're on, this election is a must win.
In an effort to add a little sweetness to the proceedings and help shape the futures of others, we wanted to share with you these adorable Ballot Box cookies handmade by the Lower Eastside Girls Club.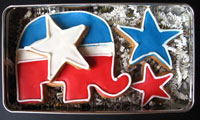 This organization is dedicated to providing a safe place where economically disadvantaged girls and young women can grow, learn, have fun, and develop confidence in themselves and their ability to make a difference in the world. Plus, they make adorable treats.
Since cookies are just made to be eaten, they have made their voter awareness sweets to appeal to both parties. So, you can support your candidate and a good cause all at the same time, providing your party a win-win on Election Day.