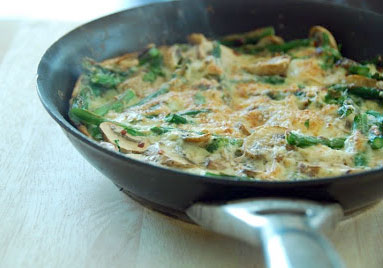 Makes 2 servings.
1-2 teaspoons olive oil
10 asparagus spears, cut into 1-inch slices
1 cup sliced white button mushrooms
6 large eggs (Egg Beaters or whites only are fine)
1/3 cup grated Parmesan cheese (divided)
1 1/2 tablespoons chopped fresh parsley
1/4 teaspoon crushed red pepper flakes
A few dashes of salt
Bring a small saucepan of water to a boil. Boil the asparagus for 2 minutes; drain, then place in a bowl of ice water. Shocking it will maintain its vivid green color. Drain and set aside.
Meanwhile, beat the eggs in a small bowl with half of the cheese, the fresh parsley, and salt and red pepper.
Add olive oil to an 8-inch non-stick skillet over medium-low heat. Add mushrooms and sauté for 5 minutes or until golden brown; add the asparagus and cook 1 more minute. Pour the egg mixture into the skillet. With a fork, gently move the egg mixture from side to side allowing the egg to seep to the bottom of the pan. Do this for 5-7 minutes, until the eggs start to solidify and a crust begins to form around the edges. Give the pan handle a jiggle, and when the eggs appear nearly set, evenly sprinkle the second half of the cheese over the top of the frittata.
Remove the pan from the stove top and place under the broiler for 4-5 minutes, or until the top begins to puff up and turn golden brown. Keep a close eye on it so it doesn't burn. Let cool for a couple of minutes before slicing. Serve hot or at room temperature.
- Recipe courtesy of Susan Russo