This is a quick and tasty way to use up leftover Thanksgiving turkey (also works great with a supermarket rotisserie chicken). You can make homemade biscuits, but the ready-made biscuits make the recipe a breeze to put together. You can serve the pot pie right out of the skillet or transfer the mixture to a large pie plate and top with the baked biscuits.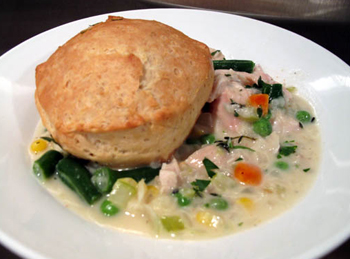 1 package Pillsbury Refrigerated Grands Homestyle Buttermilk Biscuits
4 tablespoons unsalted butter
1 medium onion, minced
1 rib celery, chopped fine
2 teaspoons chopped fresh thyme leaves
1/4 cup all-purpose flour
1/8 teaspoon cayenne pepper
1/2 cup dry vermouth or dry white wine
2 3/4 cups low-sodium chicken broth (or leftover turkey stock)
1/2 cup heavy cream or half-and-half
1 (10-ounce) package frozen peas or carrot and pea medley (or leftover roasted vegetables)
2-3 cups cooked turkey, shredded or 1 whole rotisserie chicken - skin discarded, meat shredded into large bite-sized pieces
4 teaspoons lemon juice
Salt and Ground black pepper
Chopped scallion greens or parsley, for garnish
Remove biscuits from package, place on baking sheet, and sprinkle with a little salt. Bake according to package instructions.
Meanwhile, melt butter in large skillet over medium heat. Add onion, celery thyme and 1/2 teaspoon salt and cook until soft, about 5 minutes. Stir in flour and cayenne and cook, stirring constantly, until incorporated 1-2 minutes.
Stir in vermouth and cook until evaporated, about 30 seconds. Slowly whisk in broth and cream and simmer until thickened, about 5 minutes. Stir in vegetables, turkey, and lemon juice and simmer until vegetables and chicken are heated through, 2 to 3 minutes. Season with salt and pepper. Top with biscuits and and garnish with scallions and serve.
-Recipe courtesy of Cook Like James