Quick Biscuit Turkey Pot Pie
This is a quick and tasty way to use up leftover Thanksgiving turkey (also works great with a supermarket rotisserie chicken). You can make homemade biscuits, but the ready-made biscuits make the recipe a breeze to put together. You can serve the pot pie right out of the skillet or transfer the mixture to a large pie plate and top with the baked biscuits.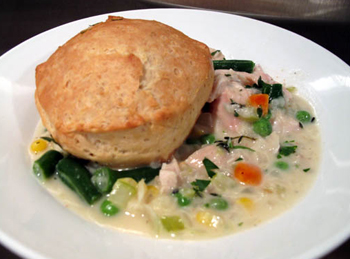 1 package Pillsbury Refrigerated Grands Homestyle Buttermilk Biscuits
4 tablespoons unsalted butter
1 medium onion, minced
1 rib celery, chopped fine
2 teaspoons chopped fresh thyme leaves
1/4 cup all-purpose flour
1/8 teaspoon cayenne pepper
1/2 cup dry vermouth or dry white wine
2 3/4 cups low-sodium chicken broth (or leftover turkey stock)
1/2 cup heavy cream or half-and-half
1 (10-ounce) package frozen peas or carrot and pea medley (or leftover roasted vegetables)
2-3 cups cooked turkey, shredded or 1 whole rotisserie chicken - skin discarded, meat shredded into large bite-sized pieces
4 teaspoons lemon juice
Salt and Ground black pepper
Chopped scallion greens or parsley, for garnish
Remove biscuits from package, place on baking sheet, and sprinkle with a little salt. Bake according to package instructions.
Meanwhile, melt butter in large skillet over medium heat. Add onion, celery thyme and 1/2 teaspoon salt and cook until soft, about 5 minutes. Stir in flour and cayenne and cook, stirring constantly, until incorporated 1-2 minutes.
Stir in vermouth and cook until evaporated, about 30 seconds. Slowly whisk in broth and cream and simmer until thickened, about 5 minutes. Stir in vegetables, turkey, and lemon juice and simmer until vegetables and chicken are heated through, 2 to 3 minutes. Season with salt and pepper. Top with biscuits and and garnish with scallions and serve.
-Recipe courtesy of Cook Like James
Florida


by

Nancy Ellison





There is the neighborhood Mexican Restaurant – good solid simple Mexican food with waiters who are kind to children and ask all women under 50 for their ID when they order beer. (I used to LOVE...

Read more...

New York


by

Alison Wonderland Tucker





"I just need to get out of the apartment." I whined to my friend Blaine on the phone.

"It's raining." He replied.

I looked out the window. It was just drizzling.

"I don't care. I need to do...

Read more...

Los Angeles


by

Maia Harari





I hold restaurant grudges. Big time. If they take french fries off the menu and replace them with sweet potato fries (ahem, Melrose Bar & Grill), if I get sick from the seaweed salad (ahem, Reel...

Read more...

Georgia


by

Amy Ephron





We were in Savannah last week-end and we went out for a drive on Sunday afternoon and out to lunch just across the bridge in Thunderbolt at a small wooden shack called Despositos.The wood...

Read more...