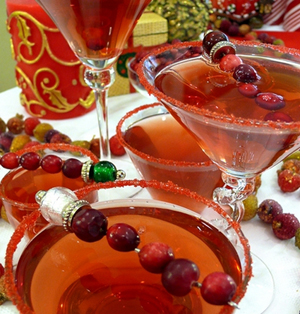 This is BY FAR my favorite holiday cocktail recipe.  It's colorful, festive and it is absolutely mouth-watering, delicious....which can be dangerous for a cocktail. I think the magic is in the simple syrup I put together, it just encompasses what the holidays should taste like;  sweet, spicy, flavorful. I guarantee a homerun when you start your party off with a pitcher of these.  And the simple syrup can be made a day ahead, so no last minute rushing!!
3 cups cranberry juice cocktail
3 cups water
1 ½ cups vodka, divided
1 cup granulated sugar
12 whole cloves
4 cinnamon sticks
1 star anise pod
Fresh cranberries
Red sanding sugar
In a large saucepan combine the water, cranberry juice cocktail, sugar, cinnamon sticks, star anise and whole cloves; bring to a boil. Reduce the heat and simmer for about 10 minutes. Remove the spices and cool completely. This may be made up to 24 hours in advance and refrigerated, which is perfect since it can get nice and cold.
Dip the rim of your glasses in some extra cranberry juice and then in red sanding sugar for a decorative touch. Put cranberries on festive toothpicks and freeze for garnish.
To a cocktail shaker half-filled with ice, add ½ cup of spiced cranberry simple syrup, ¼ cup vodka and a splash of orange juice. Shake and strain into martini glasses and garnish with frozen cranberry skewers.
-Recipe courtesy of Noble Pig