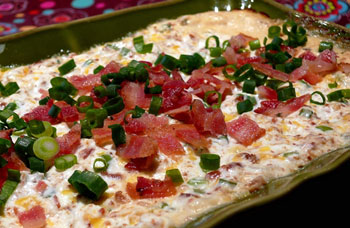 Adapted from Daisy Sour Cream

8 ounces softened cream cheese
2 cups sour cream
3 ounces bacon bits
2 cups shredded Cheddar cheese
1 cup chopped green onion, more for garnish
Chopped bacon for garnish, optional

Bring cream cheese to room temperature. Preheat oven to 400 degrees. In a bowl, combine all ingredients. Place in a 1-quart baking dish. Cover. Heat 25-30 minutes or until hot.

Serving Option: Dip may also be placed in hollowed round sourdough loaf, wrapped in foil and heated in 400 degree oven for 30 minutes.
- Recipe courtesy of Cathy Pollack at NoblePig.com