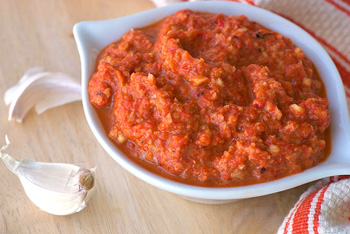 Makes just over 1 cup.

1 1/2 tablespoons olive oil
1/2 teaspoon crushed red pepper flakes
2 garlic cloves, thinly sliced

1/2 cup blanched almonds, lightly toasted
1 1/4 cups drained roasted red peppers
2 teaspoons balsamic vinegar
A couple of pinches of salt

1. In a small pan over medium-low heat, warm olive oil. Add red pepper flakes and sliced garlic, and saute until golden and fragrant, about 3 minutes. Keep an eye on it, as it can burn quickly! Remove from heat.

2. Grind almonds in a food processor. Add garlic-oil, roasted red peppers, vinegar and a pinch of salt. Process until a thick sauce forms. Taste, and salt as desired. Cover and refrigerate, but bring to room temperature before serving.
- Recipe courtesy of Susan Russo