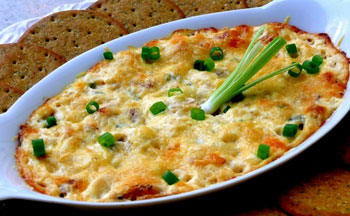 Serves 6

1/3 cup sliced almonds, toasted
One 8 ounce cream cheese, room temperature
¼ cup mayonnaise
¼ cup white wine (our Pinot Gris works great)
½ cup shredded Parmesan cheese, divided
¼ cup finely chopped green onions, more for garnish
1 teaspoon minced garlic
2 dashes hot red pepper sauce
6 ounces lump crab meat

Preheat oven to 350°F. Toast the almonds in a dry pan over medium heat. Stir frequently, making sure not to burn them. Set aside.

With a hand held mixer, blend cream cheese, mayonnaise, wine, ¼ cup Parmesan, green onions, garlic and hot sauce until combined. Fold in crab and almonds by hand. Transfer the mixture to a small baking dish and top with the remaining ¼ cup Parmesan cheese. Bake uncovered for 20-25 minutes, until it's hot and bubbly. Garnish with green onion.
Remove from the oven and serve warm with your favorite crackers, baguette or tortilla chips and wine!
- Recipe courtesy of Cathy Pollak