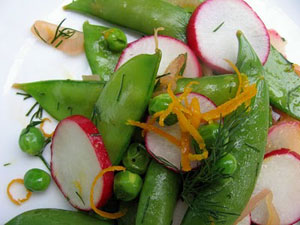 Makes 4 side servings.
2 shallots, thinly sliced
2 Tbsp butter
1 ½ cup radishes, thinly sliced
1 cup freshly squeezed orange juice (or carton juice)
A couple of pinches of orange zest
2 cups snow peas
2 cups sugar snap peas
1 cup shelled English peas
½ cup fresh dill, chopped
Salt and pepper, to taste

In a large skillet, over medium heat, melt butter. Add the shallot; sauté 2-3 minutes. Add radishes, and sauté 1 minute more. Add the orange juice and zest. Once it begins to heat up and bubble, lower the heat, and add the snow peas and sugar snap peas, and cook 1 minute. Add the English peas, and cook another 30 seconds. Turn off heat as peas are best when al dente. Add the fresh dill, and season generously with salt and pepper. Garnish with orange zest, if desired.

Note: If you'd like the dressing a little bit thicker, then simply dissolve about 1 tsp of cornstarch in a little bit of water and add with the orange juice.

Serve as a side salad or over a cooked grain, such as couscous, for a more complete meal.
- Recipe courtesy of Food Blogga.