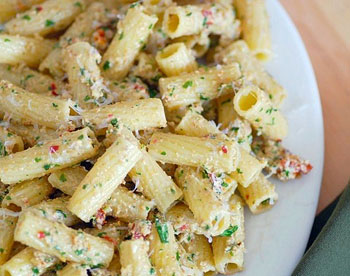 There once was a time when basil reigned supreme. A time when basil was ubiquitous in Italian dishes. A time when pesto always meant basil.

Not anymore.

Pesto is a Ligurian sauce made from mashed basil, garlic, parmesan, olive oil, and pine nuts. Though it has been enjoyed by Italians for centuries, it's a newborn to American cuisine. Sunset magazine was instrumental in introducing this sauce to Americans, when in 1946, it published a pesto recipe by Tuscan native, Angelo Pellegrini. It wasn't until the 1980's and early '90s that pesto became widely popular with chefs and home cooks, who could easily buy fresh basil at the market.

Maybe it was boredom with basil. Maybe it was creative genius by some chefs. Whatever it was, by the mid to late '90s new "pestos" made with herbs such as mint, parsley, and sage were popping up in restaurants and in cooking magazines. Now "pesto" would have to be qualified: mint pesto or sage pesto. Some people were thrilled. Others confused. Some indignant. Pesto purists (you know who you are) will argue that "pesto," refers to the Ligurian sauce made with basil. For them, all other "pestos" are imposters.

You can call me a swindler or a sell-out, but I say, if it's a sauce made with herbs, nuts, oil, and cheese, then it's a pesto. And I'm sticking to it. That is, unless Anthony Bourdain or Mark Bittman or Judith Jones emails me directly to say that I'm wrong. Then I'll change my mind. Maybe.

Rigatoni with Walnut, Parsley, and Sun-Dried Tomato Pesto
Serves 4-6

The tiny pieces of rich olive oil-soaked sun-dried tomatoes and earthy walnuts make this a satisfyingly thick, knobby pesto that bursts with flavor.

1 cup fresh flat leaf parsley
1 cup walnut pieces
1/2 cup grated Parmesan cheese, plus extra for garnish
1 small garlic clove
3 tablespoons olive oil soaked sun-dried tomatoes
1 teaspoon lemon juice
1/4 teaspoon crushed red pepper flakes
1/4 teaspoon sea salt
1/4 teaspoon freshly ground black pepper
5 tablespoons extra virgin olive oil, plus extra for garnish
1 tablespoon water, or more if needed

1 pound rigatoni


1. In a food processor, combine the parsley, walnuts, cheese, and garlic.* Process until the mixture is finely chopped. Add the sun-dried tomatoes, lemon juice, crushed red pepper flakes, salt, and pepper. With the machine running, gradually add the olive oil, then water in a steady stream, and process until smooth. (Add additional water or olive if necessary to achieve desired consistency.) Set aside.

*Note regarding garlic: If you don't prefer the pungency of raw garlic, then heat 1 teaspoon olive oil in a small skillet over low heat. Add garlic, and saute until slightly golden, 2-3 minutes. Then add to food processor.

2. Meanwhile, bring a large pot of salted water to a boil over high heat. Add pasta. Cook, stirring frequently, until al dente (tender but firm to the bite), about 10 minutes. Drain the pasta.

3. Place the pasta in a large warmed serving bowl. Top with pesto, and toss well. Garnish with grated cheese and a drizzle of extra virgin olive oil. Serve immediately.
Susan Russo is a free lance food writer in San Diego, California. She publishes stories, recipes, and photos on her cooking blog, <Food Blogga and is a regular contributor to NPR's <Kitchen Window. She is also the author of two upcoming books that will be published in the fall of 2010.