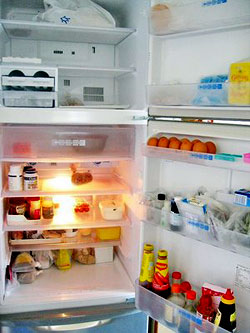 Wednesday was a hellish day. Because you left your Blackberry in a restaurant the night before, you failed to remember about the four people coming over for dinner that evening but were conveniently reminded of it when you listened to your messages after coming in the door just after 6 pm. "Really excited to see you guys tonight – what wine can we bring?" At that moment, just when you were looking forward to watching the Dexter episodes you missed over a leisurely dinner of re-heated pizza and beer did reality bite you in the ass.
You realize there is no time for shopping and you will have to go with what is in the refrigerator. You also know that the only help you will get from your partner is washing up after dinner is over. You open the fridge and that cold eerie incandescent light hits you as you search each shelf – no meat but some good looking kale, scallions and an array of great condiments. And then you thank god for giving man the insight to invent freezers.
There are five chicken breasts you were going to save for a weekend barbecue and some frozen Italian sausage. Frozen food in hand (and still in your work clothes) you turn and see Mr. Freezer's best friend, Ms. Microwave – you throw in the breasts and hit defrost. Because you are slightly crazy about cooking a good meal, you don't want to bother to go into the bedroom and change your clothes so you strip down to your underwear – knowing this is a dangerous move because oil does splatter – but what is a little burn on the belly next to ruining a good shirt or blouse.
You then put 2 to 3 heaping cups of brown rice in the rice cooker and instead of water you use chicken broth, a little white wine and throw in salt, several minced garlic cloves and a teaspoon of hot pepper and stir everything together. You then then flip on the cooker and begin the real work.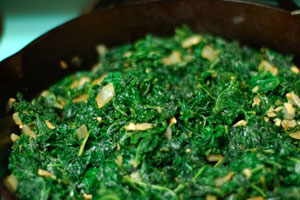 You mince the kale and about 5 cloves of garlic and two yellow onions. You sauté all of it in olive oil for about 5 minutes and remove them because now your chicken is ready. Take the chicken out and then throw in the sausage in the microwave for 2 minutes under high just to soften it up.
You then slice the chicken first the long way into 4-5 slices then proceed to mince the chicken because you want this baby to cook quickly and be easily dispersed through the rice. You do the same with the sausage. Then you heat up a little more olive oil in a pan under medium heat and add the chicken and the sausage.
After a couple minutes you add another couple of minced garlic cloves, two minced scallions, a generous sprinkle of black pepper, about 3 tablespoons of soy sauce, 2 teaspoons of maple syrup and a few sprinkles of rice or balsamic vinegar. You stir the whole mixture for a couple minutes and throw the veggies back in the pan and mix everything really well over a low medium heat.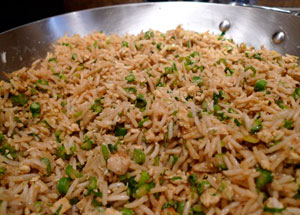 You cook for 2 minutes and take the pan off letting juices collect. The rice should be about done in about 15 minutes. Now's it's about 7:15 – run into the bedroom, get a quick shower and dress. Refreshed take the rice out of cooker and spread out on a cookie sheet so it dries out a little bit. Then take the chicken veggie mix out of the pan and add more olive oil. When oil begins to smoke add as much of the rice as comfortably fits and furiously stir it around. After 2 minutes add a little more soy sauce and some rice vinegar. Then add the chicken and veggies. Keep stirring as if your life depends on it because it does. The bottom of the rice should start getting a little crackly – this is good – you don't worry if it smells burnt because you know that burnt rice tastes really good and besides these are your friends not paying restaurant customers.
Remove pan from heat. One more step. You quarter those beautiful tomatoes that were sitting on the 3rd shelf of the fridge about to go bad and thinly slice a couple of carrots on the diagonal – you put everything in a steel bowl and toss in sea salt, olive oil and black pepper and at the end a good squeeze of lemon juice and a sprinkle of cumin powder.
Pour a glass of wine and wait for the applause.
Paul Mones @ 2009